War of the Worlds
(2005)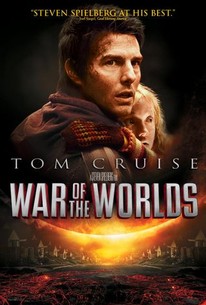 TOMATOMETER
AUDIENCE SCORE
Critic Consensus: Steven Spielberg's adaptation of War of the Worlds delivers on the thrill and paranoia of H.G. Wells' classic novel while impressively updating the action and effects for modern audiences.
Movie Info
This is a contemporary retelling of H.G. Wells' seminal sci-fi classic. The adventure/thriller reveals humankind's extraordinary battle against an extra-terrestrial invasion fleet, as seen through the eyes of one American family. Located somewhere in the New England United States, the family -- like millions of others around the globe -- is forced to take refuge from the aliens' highly advanced weapons and impenetrable shields, which are unstoppable against anything that mankind can throw at them. Unable to fight back and finding it more and more difficult to remain hidden from the aliens, the human race faces the end of its existence.
People Who Like this movie also like
News & Interviews for War of the Worlds
Critic Reviews for War of the Worlds
Audience Reviews for War of the Worlds
Fantastic! Special effects are amazing. The story was good as well. A few drawbacks in some parts (why not leave angsty teenagers out of these sort of movies?) but these are minor flaws compared to the whole package.
½
Get ready for a wild ride with the Steven Spielberg "DreamWorks" production team, in this high quality revision of H.G. Wells' "War of the Worlds". For this invasion, the story has been updated to focus on the family changes which have become most dominant over the decades since the successful 1953 version. So, the central figure, Tom Cruise (as Ray Ferrier), is not a doctor, but a more ordinary New Jersey dock worker. And, the lead character played by Mr. Cruise is made much more interesting by the fact that he is a divorced man, who is somewhat estranged from his children . Instead of the expected "hot romance", you have the drama unfolding around the bonding of Cruise and his children. Of course, a lot of disbelief suspension is required, especially in this type of film; but, the updated situation is refreshing, and believable. When the film begins, Cruise's ex-wife drops off the couple's two children while she goes off to spend some time with her new husband, and parents, in Boston. The children are played well, by Justin Chatwin (Robbie Ferrier) and Dakota Fanning (Rachel Ferrier). There is a point (foreshadowed twice) where Mr. Chatwin leaves the action; it seems like a flaw in the storytelling; but, it does work out quite well. The "son" is replaced by Tim Robbins (as Harlan Ogilvy), in some scenes which would not have worked with the original threesome. Cruise deserves some particular praise, for his performance. He is especially good after suffering a loss, then taking refuge in Mr. Robbins' basement; observe his fight to overcome madness, and protect his daughter, in the bowels of the Earth. Cruise's tearful rendition of "Little Deuce Coupe" is one of the film's most memorable moments; and, it involves no observable "special effect". The alien "special effects" are fantastic. John Williams is outstanding. Reserving comments on minor difficulties which would reveal too much; (except, the narration was unnecessary); the "War of the Worlds" is excellent entertainment. 3 Stars Updated 9-5-13
Bruce Bruce
Super Reviewer
This contemporary update of War of the Worlds is a lot better than most people say it is. 2/3 of the movie is some of the most atmospheric,suspenseful, and intense stuff that Spielberg has made in quite a long time. The problems come during the final 40 or so minutes. The movie does such an excellent and effective job of channeling 9/11 and War on Terror fears, paranoia, and anxiety, and then remembers that it's supposed to be a summer action blockbuster and jarringly becomes a cliched actioner with a schmaltzy and sentimental ending typical of almost all of Spielberg's work. Seeing as how much and love and respect the man, I can't bring myself to hate on him too much for this, but thankfully what is done right still manages to save the movie from totally sucking. With Munich Spielberg (for once) made a movie that was completely adult and serious, and avoided sentimentality-and that movie was absolutely brilliant. This came so damn close to reaching that same level, and was so close to being a masterpiece....and I don't know why it was deemed necessary to not stick with it. I only just realized that this came out a bit before Munich, but still.... Anyways, this film does feature some spectacular moments..especially the action scenes. That I used to own a van that looked 99.9% just like the one Cruise drives around in makes me like this movie in spite of it's faults. The acting is better than average, and the camera work is top notch. Give this one a chance. It's really good, which normally is fine, but it should have been excellent.
Chris Weber
Super Reviewer
War of the Worlds Quotes
| | |
| --- | --- |
| Robbie Ferrier: | This is your space. You own this. |
| | |
| --- | --- |
| Rachel Ferrier: | Are we dead? |
| | |
| --- | --- |
| Narrator: | From the moment the invaders arrived, breathed our air, ate and drank, they were doomed. They were undone, destroyed, after all of man's weapons and devices had failed, by the tiniest creatures that God in his wisdom put upon this earth. By the toll of a billion deaths, man had earned his immunity, his right to survive among this planet's infinite organisms. And that right is ours against all challenges. For neither do men live nor die in vain. |
| | |
| --- | --- |
| Robbie Ferrier: | Is it the terrorists? |
| Ray Ferrier: | No... this came from someplace else. |
| Robbie Ferrier: | What, you mean like Europe? |
| Ray Ferrier: | NO, ROBBIE! NOT LIKE EUROPE! |
Discussion Forum
Discuss War of the Worlds on our Movie forum!