War on Everyone
(2017)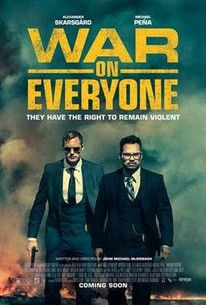 TOMATOMETER
AUDIENCE SCORE
Critic Consensus: War on Everyone boasts just enough dark humor and infectious energy to make this somewhat middling entry from writer-director John Michael McDonagh an entertaining diversion.
Movie Info
TERRY (Alexander Skarsgård) and BOB (Michael Peña)are two crooked cops who frame and blackmail criminals all over town. Looking for the ultimate pay-off, they try to extort a strip-club manager (Caleb Landry Jones) and his eccentric, junkie boss, (Theo James), but get more than they bargained for when their hair-brained scheme uncovers a bigger, darker secret.
News & Interviews for War on Everyone
Critic Reviews for War on Everyone
Audience Reviews for War on Everyone
½
After two brilliant outings with The Guard and Calvary, all eyes were on Irish writer/director John Michael McDonagh's third feature. There's a problem though, and that problem is the same one that plagued his brother Martin when he delivered the woefully misjudged Seven Psychopaths after his successful debut, In Bruges. Martin's problem was heading straight for Hollywood while forgetting to take a coherent script with him and this film has a similar sense of deja vu. Plot: Terry Monroe (Alexander Skarsgård) and Bob Bolaño (Michael Peña) are two cops who are just as corrupt as the criminals they arrest. However, when they try and shake down a strip club owner, they stumble on an even bigger crime lord. Leaving behind the idyllic coasts of Ireland, McDonagh's third outing focuses on the sun kissed streets of L.A. where he delivers a generic buddy/cop story. He attempts to play with conventions a little by throwing in some one liners that are sure to cause offence with some minority or other but the jokes are strained and few, if any, work at all. You might think that if the humour doesn't fly then you'll find something else to grab your interest but there isn't anything. The story lacks drive and there's nothing here that we haven't seen before. In fact, most recently Ryan Gosling and Russell Crowe tread the same ground with The Nice Guys with much more entertaining results. I actually felt sorry for Skarsgård and Peña; they are two gifted actors but there's no material here to work with and, together, they simply lack chemistry. There's also no attempt, whatsoever, to craft a three dimensional villain. What we get in this respect is strictly a stereotype with Theo James' upper-class, nasty attitude and posh English accent. Some vibrancy is attempted with the introduction of Caleb Landry Jones' flamboyant strip-club owner but the only colour he injects is his bright yellow socks. It's actually hard to believe that this was the same person who wrote and directed the sublime Calvary - one of my favourite films of 2014. An absolutely pointless and messy endeavour that suffers horrendously from a lazy script In fact, to quote the film itself, "it starts and ends with the script. If you ain't got a good script, you ain't got shit". Wise words but it's just a shame that McDonagh didn't pay heed to them. Mark Walker
Mark Walker
Super Reviewer
War on Everyone breaches the boundaries of political correctness and sincerity but whilst amusing, comedy of the back of racist stereotypes and cynicism is enough to question your own morals. Not funny enough to make this random movie entertaining!
Film Crazy
Super Reviewer
War on Everyone Quotes
There are no approved quotes yet for this movie.
Discussion Forum
Discuss War on Everyone on our Movie forum!