Warm Water Under a Red Bridge (Akai Hashi No Shita Noo Nurui Mizu)
(2002)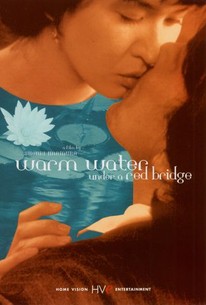 Warm Water Under a Red Bridge (Akai Hashi No Shita Noo Nurui Mizu) Photos
Movie Info
Koji Yakusho -- who starred in Shoshi Imamura's Unagi, along with virtually every Japanese indie film of note in the late '90s -- stars as Yosuke, a former successful businessman who is now out of work and divorced. One of his few friends is Taro (Kazuo Kitamura), an aging hobo type who tells him of a golden Buddha he stole from a temple in Kyoto and stashed in his ramshackle house adjacent to a red bridge on the rugged Noto peninsula. After Taro dies, Yosuke ventures to the hinterland to see if he can find the priceless statue. He finds the house, which is inhabited by an old fortune teller (Imamura regular Mitsuko Baisho) and by her vivacious granddaughter Saeko (Misa Shimizu). He realizes that Saeko is unlike the other girls when he spies her swiping something from a local market, then observes water seeping out of her body. She later tells him that her body is a spring of water that wells up within her. The only means of relief is through theft or through sex. Soon the two are enthusiastically exchanging fluids, so much so that water blasts from Saeko's nether regions like a fire hose. As the water flows to the nearby creek, fish cluster around to cavort in its special properties. Yosuke decides to stick around, not only to service Saeko's special needs, but also to look for the Buddha. This film was screened at the 2001 Cannes Film Festival.
Critic Reviews for Warm Water Under a Red Bridge (Akai Hashi No Shita Noo Nurui Mizu)
Audience Reviews for Warm Water Under a Red Bridge (Akai Hashi No Shita Noo Nurui Mizu)
This is perhaps one of the strangest Japanese movies that I have seen but it works nonetheless. The characters are well defined and the story line turns the unbelievable into the plausible.
John Ballantine
Super Reviewer
A serious film about some quirky, off-beat, WTF subject matter. The less you know the better!
Randy Tippy
Super Reviewer
½
Not the best Imamura,but it certainly takes a blow and vanquishes anyone who assumes it's just another "love story",spiced up with the delicate romance.Negative.As always that viciously talented Japanese master explains to us the simplicity in fantastic tendency for unreal.Unreal for the unimaginative ones.Yakusho is excellent in an unusual role as the man who meets his match: an orgasmic "gift".
Dimitris Springer
Super Reviewer
Warm Water Under a Red Bridge (Akai Hashi No Shita Noo Nurui Mizu) Quotes
There are no approved quotes yet for this movie.