Warning Sign
(1985)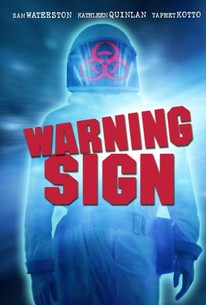 Movie Info
In yet another ostensible thriller about deadly germs wreaking havoc on human life and psyches, this is a frenetic, uneven story about germs going berserk in a sealed-off lab, giving rise to infected humans more berserk than the germs. The lab is secretly developing weapons of biological warfare, and when an accident occurs that immediately seals off the building, it looks as though some of the workers have died from their exposure to the invisible killers. But, lo and behold, these apparent corpses leap up from death and, rabidly homicidal, they can hardly wait to kill off any human in their vicinity. This makes the potential victims about as vicious as their attackers in their need to escape from room to room, turning the lab into a kind of asylum for the homicidally insane. No wonder that chief cop Cal Morse (Sam Waterston) has a job and a half on his hands -- made worse because his girlfriend (Kathleen Quinlan) is in there with the loonies. ~ Eleanor Mannikka, Rovi
Critic Reviews for Warning Sign
All Critics (5) | Fresh (1) | Rotten (4) | DVD (1)
This film written begins with the seriousness of The Andromeda Strain and then veers off into something akin to The Return of the Living Dead. The two genres don't mix.

Spirituality and Practice
Warning Sign takes what should have been an exciting subject (ie Outbreak) and turns it into an excrutiatingly dull one (ie The Andromeda Strain).

Audience Reviews for Warning Sign
A fun disaster thriller film. Though there are better ones out there, it mostly works. The actors seem fairly interested, and the plot is pretty good too. Recommended for a rental.
prkprk prkprk
½
Nice biohazard horror flick with a cool cast. Presages 28 Days Later in some ways in its depiction of a virus that affects the rage center of the human brain. Warning Sign is perhaps outdated now that we have moved from the Cold War era to the era of the War on Terrorism, but it is still a cool indictment of the government's deception of the publilc and nice little horror film as well.
Al Miller
½
Pretty simple 80's fare about a government biological warfare building is completely sealed off when a tiny rip occurs in a contamination suit. Everybody starts freaking out, but all is calmed down and the wait for re-opening ensues. Soon, people die, and then get back up, and stop being nice and being hunting down the few survivors left in the building. There's some terrific performances from leads Sam Waterston and Kathleen Quinlan, but nothing spectacular. Still, good movie.
Jason Duron
Warning Sign Quotes
There are no approved quotes yet for this movie.
Discussion Forum
Discuss Warning Sign on our Movie forum!