Watch on the Rhine
(1943)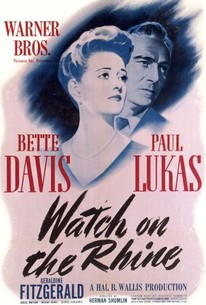 Watch on the Rhine Videos
Watch on the Rhine Photos
Movie Info
An expansion of, and improvement upon, Lillian Hellman's stage play of the same name, Watch on the Rhine stars Paul Lukas, recreating his Broadway role of tireless anti-fascist crusader Kurt Muller. As the clouds of war gather in Europe in the late 1930s, Muller arrives in Washington DC, accompanied by his American wife Sara (top-billed Bette Davis) and their children Joshua (Donald Buka), Bodo (Eric Roberts) and Babette (Janis Wilson). The Mullers stay at the home of Sarah's wealthy mother Fanny Fannelly (Lucille Watson), who lives in her own world of society get-togethers and can't be bothered with politics. Also staying with Fanny is Rumanian aristocrat Teck de Branovis (George Coulouris) and his American wife Marthe (Geraldine Fitzgerald). To protect his family, Muller keeps his "underground" activities a secret from Fanny and her guests, but de Branovis is suspicious of the mild-mannered visitor. It turns out that de Branovis is actually a Nazi sympathizer, willing to betray Muller for a price. Using blackmail as one of his weapons, de Branovis threatens to destroy all that Muller has been fighting for. To prevent this, Muller kills de Branovis in cold blood. Now technically a murderer, Muller bids his family a reluctant goodbye, heading back to Europe to continue his vital work. If ever there was a justifiable homicide in a motion picture, it was the killing of the odious de Branovis in Watch on the Rhine. Still, the Hollywood production code dictated that a murderer must always pay for his crimes, thus a coda is added, alluding to Muller's death-providing a golden opportunity for a nifty smiling-through-the-tears curtain speech by Bette Davis. Scripted by Lillian Hellman's lover Dashiel Hammett, Watch on the Rhine earned several Academy Award nominations, as well as a "best actor" Oscar for Paul Lukas. ~ Hal Erickson, Rovi
Rating:
NR
Genre:
, ,
Directed By:
Written By:
In Theaters:
On DVD:
Runtime:
Studio:
Warner Home Video
Critic Reviews for Watch on the Rhine
Audience Reviews for Watch on the Rhine
It is not noble. It is only the way we must live. Sara and Kurt flee Germany back into the United States with their three children. They have extended family in the US. Kurt sympathizes for his countrymen and creates an underground railroad of sorts to save German refugees. When Kurt turns up missing, Sara tries to keep her sons from finding out about their father's past and following in his footsteps. "Idiot." "Walrus." Herman Shumlin, director of Confidential Agent, delivers Watch on the Rhine in his directorial debut. The storyline for this picture is very good and well executed. The characters and sub plots are entertaining and the acting is very good. The cast includes Bette Davis, Paul Lukas, Geraldine Fitzgerald, Eric Roberts, Anthony Caruso, and Henry Daniell. "Please do not talk. Please don't seem nervous." I came across this on Turner Classic Movies (TCM) and decided to give it a shot because it starred the magnificent Bette Davis. She was excellent in this film and the content was well told. This has some worthwhile sequence of events that makes it worth watching once for fans of the classics. "Fashions of sin change." Grade: B
Kevin Robbins
½
Slightly weird, talky anti-Nazi film that doesn't seem to "get" Nazis. Of course I'm talking from the hindsight of history, but the exact nature of Nazi Germany doesn't seem to be well established. Placing the film in Washington D.C. really hurts the film, I think; it just doesn't make sense for a Resistance leader to be convalescing there during the war. I feel like London was maybe the original setting, and this would make a lot more sense. Also, just too "talky," even for a play; too many grand speeches that don't really land.
Matt Heiser
A middling Bette Davis film which doesn't happen very often. I get the sense that this is yet another propaganda film and thus the actors only have one dimension to explore. Only mildly entertaining.
John Ballantine
Super Reviewer
Discussion Forum
Discuss Watch on the Rhine on our Movie forum!