Water Lilies
(2008)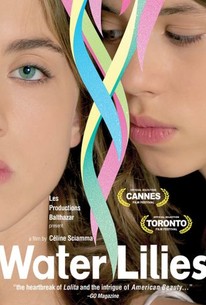 TOMATOMETER
AUDIENCE SCORE
Critic Consensus: Water Lilies is a sharply-observed, provocative coming-of-age story that captures the anxieties of the early teen years.
Movie Info
Three 15-year-old girls living in the ultra-modern Paris suburb of Cergy-Pontoise find the dynamics of their relationships gradually beginning to shift in first-time filmmaker Céline Sciamma's intimate look into the world of synchronized swimming. Floriane (Adele Haenel) is a beautiful blonde with a perfect body and remarkable talent in the pool. Marie (Pauline Acquart) is something of a tomboy taken to water, and Anne (Louise Blachere) is an overweight-but-outgoing swimmer whose crush on a male swimmer (who only has eyes for the physically flawless Floriane) is about to forever change the way these three disparate souls relate to one another.
News & Interviews for Water Lilies
Critic Reviews for Water Lilies
Audience Reviews for Water Lilies
½
"water lilies" is a coming-of-age lesbian tale, seemingly designed for the interests of certain restricted group of audience. but the issue of psychological developments is universally recognized rather than a propaganda to politically patronize a certain sort of lifestyle as homosexual movies tend to be at the most of time. basically it's a story about a flat-chested lean-figured tomboyish girl's(marie) obssesion over the lead ballerina(floriane) in school's synchronized swimming team as well as her sympathetic friendship with her obese nymphomaniac friend (anne) who craves the attention of boys from sportsteam. marie has a crush over floriane as awestricken by floriane's fair poise around the pool, so she begs to be a groupie to watch them practice, then marie becomes the accomplice who connives floriane's promiscuity by being a front excuse to facilitate floriance making out with her male pursuers. angered by floriane's apathetic usage, marie decides to walk off the set, but disuaded by floriane. then eventually the charm gal, the proud queen bee starts to confess how sexually frigid she is, afraid to bleed by penetration(the truth is she's a virgin) but she has to act sluttish so she could remain her reputation as the most wanted girl in school. so marie gets to be acquainted with her crush who's in need of companionship since all the girls hates this flaunting "floozie". one day floriane requests the shocking impossible, she wants to be deflowered by marie. meanwhile marie's overweight friend who suffers from the common nymphomaniac sympton in adolescence gets laid with floriane's boyfriend who's agitated by floriane's constant refusal after being aroused so often so he seeks whoever's handy over there for instant gratification. so what would happen to these three young girls who seem to be dazed by their present loss of orientation in life? there's nothing sensual about water lilies since none of these females enjoy the notion of sex, and sex is more of a political instrument to announce your status among the peers. ironically the glamourous aphrodite's frightened by sex despite the enormous sex appeal she radiates. even the lovelorn fat girl doesn't love sex but repulsed over it afterwards. sex is nothing enjoyable but an approach to reassure your self-worth or demonstration of your personal buoyancy. womanhood is something they fear but pathetically confined by the attention of opposite sex since girls would also judge and discriminate each other by the popularity with boys. it's a grim truth of puberty, totally salvage and politically incorrect. those who live thru or survive over such brutal mental ordeal fledge into womanhood; those who don't just conform to the gender system on the surface despite numerous issues with men (sex frigidity may be one thing) or choose the path of lesbianism. that's the awkward fact most women wanna bury deeply within you when you attain the state of full blossom. undeniably this movie still sets out in the perspective of lesbian, marie, whose world has no consequence with boys, but she's also rejected and withdrawn from the mainstream, alone and friendless, except her companionship with another discriminated girl who's being rebuffed for her body shape. none of them truthfully care for boys who are only signifiers for social functionality. (and the boys don't care about girls except for their sex?) marie is the only one who's true to herself, willing to reconcile that but she's devastated by this system. is it saying lesbianism is the truth of life? or this is a movie about three half-baked little lesbians and their issue to come out of closet? so it's after all a homosexual-centered movie without universal consensus? perhaps sometimes repressed love might have more sparkles of smoldering intensities than the usual love affairs, romantic in its autistically volcanic way. footnote: repressed love sucks. it's better to have no love at all in you, whether it's straight love or homo-love. just as "mad men" says in its first episode: INVENTED WANT, just like advertisement.
Veronique Kwak
Super Reviewer
½
Céline Sciamma's coming of age melodrama that's titillating in it's sexual ambiguity. Céline expends a lot of screen-time fostering the tension between her characters, so much so that it comes off a little sappy and pretentious. Still, the film works well and should be a sign of good things to come from this young and obviously talented director.
Randy Tippy
Super Reviewer
½
A coming of age movie about two friends who are going through the struggles of fitting in and being wanted. They go through it differently, one wants a boy who is not at all interested in her and the main character is infatuated with a pretty girl who gets all the boys attention. This film surprised me, I didn't expect to really like it, but I do.
Water Lilies Quotes
There are no approved quotes yet for this movie.