Bram Stoker's Way of the Vampire
(2005)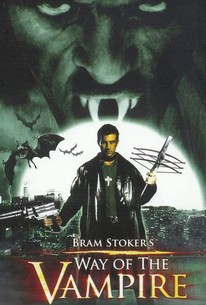 AUDIENCE SCORE
Critic Consensus: No consensus yet.
Movie Info
Toothless horror yarn, set in modern-day Los Angeles, where a demon-hunter (Rhett Giles) battles a bloodsucker (Andreas Beckett). Also known as "Way of the Vampire." Directed by Eduardo Durao and Sarah Nean Bruce.
Critic Reviews for Bram Stoker's Way of the Vampire
There are no critic reviews yet for Bram Stoker's Way of the Vampire. Keep checking Rotten Tomatoes for updates!
Audience Reviews for Bram Stoker's Way of the Vampire
I watched this movie even though it was a struggle!! The one bright spot of was the actor playing Van Hesling. At least he could say his lines convincingly now and then, which is really saying something with the corn-ball dialog in this movie!! I love to watch B-Movies but it has to have at least one of the following, decent acting or decent dialog, which this movie was lacking on both accounts!! It wasn't quite as bad as Twilights idiotic "you like me and you think I'm beautiful" line, but it was close at times!! Especially when Dracula he first star
Jack Elmore Jr
½
What an epic little B-movie! The budget is obvious, but it's ok, there's soo much fun to be had here, and not in a soo bad, it's good way, this is actually a well made B-movie. Rhett Giles, a really good actor, plays an immortal Van Helsing, damned to hunt all vampires, and once the last is killed, he shall get his mortality back. The vampires look pretty ok, most of the acotrs are comptent and there's a nice stylish flair to it all, and the director keeps the pace well.
Bobby LePire
really?! this was so dissapointing i thought children wrote it. damn the vampires needed only to go elsewhere and they could have lived long blood filled lives building in numbers. instead they hider for at least a hundred years then come out bazing and declare war. such small minded characters
megatrron rising
Bram Stoker's Way of the Vampire Quotes
There are no approved quotes yet for this movie.
Discussion Forum
Discuss Bram Stoker's Way of the Vampire on our Movie forum!