We're Going to Eat You
(1980)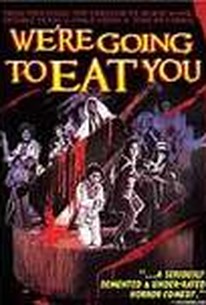 AUDIENCE SCORE
Critic Consensus: No consensus yet.
We're Going to Eat You Photos
Movie Info
Following up on his debut outing Butterfly Killers, Tsui Hark spins this gory and controversial cannibal crime flick. The film opens with Agent #999 (Norman Tsui Siu-keung) being sent to a remote island to apprehend wanted criminal Rolex (Melvin Wong Kam-sum). Of course, the island is largely inhabited by crazed, blood-thirsty man-eaters who want little more than to gnaw on human bones and devour human brains. 999 barely escapes with his life after a foolhardy jaunt to the local slaughterhouse. Meanwhile, Rolex is desperate to leave the island himself but cannot because of the tribe's deranged boss known only as "the Chief" (Eddy Ko Hung). The criminal eventually finds the cop assigned to arrest him, hoping to join forces and escape this hell of half-eaten corpses. When Rolex gets felled by the Chief, 999 must figure out how to escape by himself. ~ Jonathan Crow, Rovi
Cast
Critic Reviews for We're Going to Eat You
All Critics (1) | Fresh (1) | Rotten (0) | DVD (1)
It's a kung fu party, a loopy comedy, a gore flick, and a slap-your-forehead acid trip at the same time.

Audience Reviews for We're Going to Eat You
½
Tsui Hark and first time writer Szeto Cheuk-hon have all the wry stuff here and pull off the daunting task of synchronizing cannibalism, comedy, and kung fu in near-perfect harmony. Only when a reoccurring gag, featuring a randy Amazon woman (quite obviously an actor in drag), does the writing falter. And yet given that the epicenter of "We're Going to Eat You" is a remote village of cannibals -- fed by a group of Leatherface indebted butchers -- it's strangely fitting.
Adam Laidig
Frankly speaking, this is not a recommendable film unless you are a big fan of Hong Kong movie. Hark Tsui's 2nd feature filmed when he was 30. It's a kungfu action film with an eccentric and absurd plot that a cop fights with cannibals in a rural village. There are a lot of grotesque scenes, and the characters are all crazy. It's featuring the two action stars of 70s and 80s - Norman Chu and Eddy Ko. Screenplay is by Hark himself and Roy Szeto, who now is a big writer, and this is his debut as a writer. Kungfu movements, designed by later a famous director Corey Yuen who directs "Transporter" in Hollywood, are great and fun to watch, although it is a little bit lengthy. This film is important to analyze Tsui Hark as a film auteur, because so many elements of his later films are already used in this film, such as fancy camera angles, original use of music like music for Chinese traditional opera, unique sense of humour, quick cutting, scenes of vomitting, the story evolution which changes again and again, etc.
Naoya Kugimiya
½
Crazy action-comedy-horror from Hong Kong about a village full of cannibals who trap and butcher travellers to satisfy their cravings for human flesh. A bizarre mix of cannibalism, kung-fu and slapstick humour with each of these elements having varied success. There's a bit of gore but not enough for my liking. The fight scenes are decent enough but lack the fast-paced excitement of a Jet Li or Jackie Chan flick. It's funny at times but no real laugh out loud moments. A good fun and unique film overall, check it out.
Discussion Forum
Discuss We're Going to Eat You on our Movie forum!
News & Features