We Are What We Are
(2013)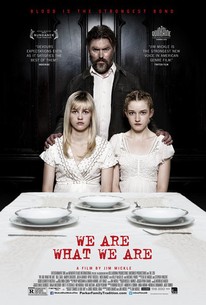 TOMATOMETER
AUDIENCE SCORE
Critic Consensus: A compelling story cleverly told, We Are What We Are quenches horror buffs' thirst for gore while serving up serious-minded filmmaking and solid acting.
We Are What We Are Videos
We Are What We Are Photos
Movie Info
The Parkers have always kept to themselves, and for good reason. Behind closed doors, patriarch Frank rules his family with a rigorous fervor, determined to keep his ancestral customs intact at any cost. As a torrential rainstorm moves into the area, tragedy strikes and his daughters Iris and Rose are forced to assume responsibilities that extend beyond those of a typical family. As the unrelenting downpour continues to flood their small town, the local authorities begin to uncover clues that bring them closer to the secret that the Parkers have held closely for so many years. -- (C) Entertainment One
People Who Like this movie also like
News & Interviews for We Are What We Are
Critic Reviews for We Are What We Are
Audience Reviews for We Are What We Are
½
An effective psychological horror film that works precisely because it avoids cheap scares, adopting an oppressive cinematography to create a slow-burning and disturbing experience centered on religion, tradition and patriarchy, despite being a bit predictable sometimes.
Carlos Magalhães
Super Reviewer
Actually pretty creepy horror movie with a theme I didn't immediately guess. Well filmed, nicely acted and fittingly horrible story.
Nicki Marie
Super Reviewer
½
This is a damn good horror movie that definitely subverts expectations and provides you with a very intelligently-told and well-acted story about the dangers of bringing up kids into a household of religious extremism. Yes, this is a horror film but it definitely has some parallels to real life and how, I believe, kids shouldn't be taught about religion until they're at an age where they can understand it. It'd be thirteen at the earliest if I had my choice, but I realize that this should also be taken from case to case, as some kids develop quicker than others. The same way you don't teach a 5-year-old about sex, it's the same way with religion. These kids grow up thinking that their parents would never lie, so why would they lie about the existence of god? It leads to these kids growing up and, since they've had the fear of god, literally, put into them, they refuse to seek answers outside of the ones that they're fed in the bible. They stick with the stuff that sounds nice to them and refuse to accept any other theory out there that completely refutes everything they believe. That's not to say that all people who grow up in religion end up this way, but it's not something that should be taught to kids as their minds can simply not comprehend it. Of course, this film takes that example and pushes it to its most extreme end. The film sees the story of Rose and Iris as they choose to end an incredibly violent ritual that has gone on for hundreds of years. This religious indoctrination has gone on for generations in this family and Frank, the father, is as much a victim of this indoctrination as his children were. So while the film is certainly about Iris and Rose and how they break free from their father's control, it's also about the effects Frank's upbringing had on how he raised his children up to be the same way. It's about the cycle of violence, disguised as a religious obligation, has consumed this family for generations. And the film does this with minimal gore, and the gore that is there, I feel, is absolutely essential in moving the story forward. Because of the fact that the film holds the gore back until it's absolutely necessary, some may feel that the film is too slow-paced to be enjoyable. I understand those complaints, but I wasn't really bothered by its "slower" approach as I knew the film was going somewhere. It wasn't aimless, there was a purpose and a reasoning behind every scene so it wasn't bothersome to sit through the "quieter" moments of the film. Besides, the film is mostly about the psychological effects their religious upbringing has had on Rose and Iris and how they're constantly pushed and pushed by their father until they reach their breaking point. And when they reach that breaking point, boy is it incredible. The saying 'live by the sword, die by the sword' certainly comes to mind, without spoiling anything. The acting is really strong. I don't know if Julia Garner is gonna be a star like Jennifer Lawrence, but she'll have an incredible career in independent films. She's just tremendous in this film, as is Ambyr Childers and Bill Sage. But the show really belongs to Julia Garner. This is definitely one of the better-acted horror films in recent memory. And this is the cast as a whole and not just an individual performance. While Julia Garner was tremendous here, her standalone performance doesn't match up to Jade Dornfeld in Alyce Kills. But this isn't about comparing performances and whatnot. I liked the ending because there was a certain ambiguous feel to it. Will they move on from the lifestyle their father forced them into? Or have their actions brought out a new side to them? A side that actually enjoyed doing what they did. So I thought that was cool as well. I definitely need to watch the original film that this is based on. But I'm pretty damn sure that this film would manage to stand out on its own. Regardless, this is a really good horror film that definitely makes you wait for the payoff, but damn if that payoff isn't insanely satisfying when it comes.
Jesse Ortega
Super Reviewer
We Are What We Are Quotes
There are no approved quotes yet for this movie.
Discussion Forum
Discuss We Are What We Are on our Movie forum!