We Steal Secrets: The Story Of Wikileaks
(2013)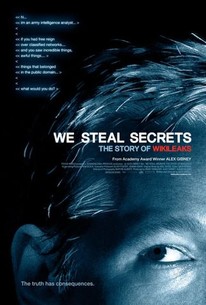 TOMATOMETER
AUDIENCE SCORE
Critic Consensus: As fascinating as it is provocative, We Steal Secrets: The Story of Wikileaks presents another documentary triumph for director Alex Gibney, as well as a troubling look at one of the more meaningful issues of our time.
We Steal Secrets: The Story Of Wikileaks Photos
Movie Info
Acclaimed documentarian Alex Gibney (Enron: The Smartest Guys in the Room) takes the reins for this no-holds-barred look at one of the most unusual phenomena of early 21st century media. In 2006, an Iceland-based outfit called The Sunshine Press launched the website WikiLeaks.org. As run by Australian Internet activist Julian Assange, the site's mandate involved regularly publishing top-secret documents and covert information, often regarding governments and their respective military operations. As might be expected, this set off a firestorm between those who admired the organization's bravado and resourcefulness, and those who argued, not unjustly, that the dissemination of data regarding such events as the U.S. war in Afghanistan could put untold numbers of lives at risk. In We Steal Secrets, Gibney relays the story of the WikiLeaks website from the inside, and moves beyond black and white to penetrate a complex network of activity guided by courage and idealism but also allegedly guilty of ethical insensitivity and hypocrisy. ~ Nathan Southern, Rovi
News & Interviews for We Steal Secrets: The Story Of Wikileaks
Critic Reviews for We Steal Secrets: The Story Of Wikileaks
Audience Reviews for We Steal Secrets: The Story Of Wikileaks
A fascinating documentary that sheds a revealing light on the largest whistleblowing scandal of recent times, its repercussions and the moral dilemma involved, even though Gibney also has a bit of trouble editing all this material together in a cohesive way.
Carlos Magalhães
Super Reviewer
For what it is, it's worth seeing. There are many parts that just make you say "WTF is this guy implying" which makes you question the veracity of most of the claims made here. It's basically the story of Assange and Manning. The other reason I didn't like it so much was that at times it was hard to pinpoint what event happened first; the film is quite jumbled and interviews are very varied.
For most people in the United States, the state of secrets is relatively unknown. With the ensuing scandals, the secrecy, leaks, whistle blowers, and constant news coverage, we are at odds with government at an incomparable level. A couple of years ago Julian Assange, head of Wikileaks, unleashed upon the world the secrets of our government and those of its war. This documentary, helmed by the unmatched Alex Gibney, covers that history and lets those of us not in the know, know about what occurred. A good portion of the film is actually about the private life of Mr. Assange, another large portion on Wikileaks, and another still on Bradley Manning. Through a set of long interviews, news coverage, and found footage, this documentary tells the story of the website's inception, its head's history, and what became of it. This is one of the more pointed and unbiased documentaries I've ever seen, and gives criticism of both Assange and his operations, as well as praise. Not only does this film give the very technical details of what occurred three years ago, it also broaches on how it was inevitably derailed. The film does get a little bogged down in its own jargon and extensive timeline, jumping between the past and the present, and also perspective, as it does go off-track on the story of Bradley Manning for a subsequent amount of time. The reason this film covers Assange as well is because of the Christ-like acclaim he gained as the perpetuator of the website. He was a rebellious icon and was bringing free speech to the masses, but at the same time he was also exiling himself for his own foolishness, and didn't admit to his own undoing. He was everywhere in the media, and yet knew when to release raw materials for the world to see, and when not to for people's safety. It's really strange how unbiased it all is, because it feels like it's driving towards a clear point and then ends with us wondering what the hell happened?
Spencer S.
Super Reviewer
We Steal Secrets: The Story Of Wikileaks Quotes
There are no approved quotes yet for this movie.