We Were Here
(2011)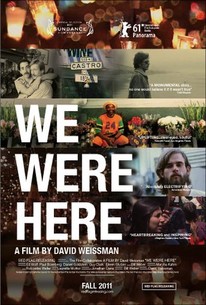 Movie Info
We Were Here documents the coming of what was called the "Gay Plague" in the early 1980s. It illuminates the profound personal and community issues raised by the AIDS epidemic as well as the broad political and social upheavals it unleashed. It offers a cathartic validation for the generation that suffered through, and responded to, the onset of AIDS. It opens a window of understanding to those who have only the vaguest notions of what transpired in those years. It provides insight into what society could, and should, offer its citizens in the way of medical care, social services, and community support. -- (C) Official Site
News & Interviews for We Were Here
Critic Reviews for We Were Here
Audience Reviews for We Were Here
An important and engaging documentary about the unimaginable horrors of the early years of AIDS. Although I had head some of this before from older friends, it provided a much better, more complete account of a harrowing time. It is easy to forget the pain and fears of others, or just to know them in a detached academic way. We should never forget that an entire community dying was reality for some people.
Christian C
Super Reviewer
"We Were Here" is a simple, yet powerfully effective documentary history of the AIDS epidemic in San Francisco that creates a clear timeline of events, running from first rumors through effective treatment. This is told by a handful of survivors and eyewitnesses in their own words, recalling lost friends and loved ones, thus bringing such momentous events down to a deeply personal level. And the archival footage and photographs work well in tandem with this. Of particular interest is the valuable work of the lesbian community during the epidemic, previously a lesser partner in the larger gay community, rising to the occasion in more ways than one.(Correct me if I'm wrong but I think this was only glanced over in "And the Band Played On" by Randy Shilts.)
We Were Here Quotes
There are no approved quotes yet for this movie.