Welcome to Death Row
(2001)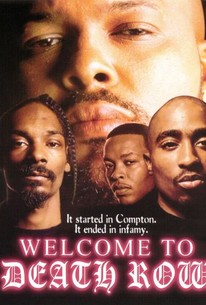 AUDIENCE SCORE
Critic Consensus: No consensus yet.
Welcome to Death Row Videos
Welcome to Death Row Photos
Movie Info
From the makers of Thug Immortal comes this "Rapumentary" chronicling the rise and fall of Death Row records. The brain-child of Suge Knight, Death Row blasted onto the music scene, virtually out of nowhere, offering up Compton-based gangsta rap from a stable of artists that included Tupac Shakur, Snoop Doggy Dogg, and Dr. Dre. Using interviews with artists, critics, and Knight himself, Welcome to Death Row attempts to sort out the story behind the controversial company, addressing rumors of violent business tactics, criticism from political groups, and alleged involvement in the drug trade. Released in 2001, the presentation runs 104 minutes.
Rating:
G
Genre:
, ,
Directed By:
In Theaters:
On DVD:
Runtime:
Studio:
Xenon
Critic Reviews for Welcome to Death Row
There are no critic reviews yet for Welcome to Death Row. Keep checking Rotten Tomatoes for updates!
Audience Reviews for Welcome to Death Row
½
I recommend this to you if your a fan of at least 1 artis from deathrow. I knew about death row already but this told me alot of inside info like a dope dealer helped start death row then suge screwed him over.So get this to know more about this label .
Jarrette Patterson
½
The hip hop documentary is kind of its own genre, and many of them feel like an excuse to let your favorite rapper babble about nothing on camera. Not the case at with 'Death Row.' This is an insightful film about a record label controlled by criminals, how that became part of its marketing, and how the same tactics that brought it to prominence led to its downfall. It features archetypal, almost mythic characters, many of whom are famous, but several who were incredibly influential behind the scenes who enact a classic tragedy, with a power grab against a drug kingpin, then the fallout and eventually the aftermath for its survivors. There's so much going on here and there it raise a lot of questions about race class and America's fascination with crime.
Ben Hamamoto
½
[i]The Fog of War[/i] should be required viewing for everyone in the Bush administration. Unfortunately, they would probably look at Robert McNamara as someone who has softened with age, and lost his true perspective. They would be deluded, of course. McNamara does quite a bold thing in Errol Morris' film. It's almost a type of confession. As if he is attempting to absolve himself of mistakes that he made. Unlike when you and I screw up, McNamara's mistakes killed people. He's nothing if not genuine. Michael Moore can learn from this film. It's more effective than F9/11, and far better technically. Morris is the greatest documentary filmmaker to ever live, and Moore has got a long way to go just to sniff his jock. Finally, is it ironic or sad that liberals, libertarians, and true conservatives have reached a point where we might [i]wish[/i] Robert McNamara was the current SecDef? [i]Welcome to Death Row[/i] is an interesting look at the record label (Death Row Records) and it's notorious associates (Shug Knight, Dr. Dre, Snoop Dogg, Tupac Shakur, Harrio, etc.). The film is extremely well directed and edited, and is an absorbing watch. I found it a bit incomplete, however, because it treated Shakur's murder as more of an afterthought. To me, that's when the story really gets interesting. I think the film also shows these entertainers and record people in a different light. They are thoughtful, smart artists who love their craft. A far cry from the general public perception. This film is incredibly underwatched. By comparison, it has 1/30 the votes on IMDB that [i]The Fog of War[/i] has, and that film is often considered 'missed.' [i]Winged Migration[/i] is the bird movie where the French dude figured out how to photograph birds in flight. It's beatiful, and I enjoyed it immensely (watched it twice last night). But, in the end, it's 100 minutes of birds flying, so it only gets 6/10.
Ack Scopel3
Welcome to Death Row Quotes
There are no approved quotes yet for this movie.