Welcome to Dongmakgol
(2005)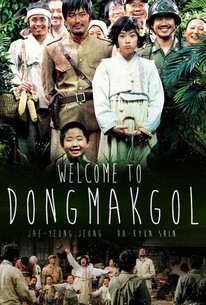 Welcome to Dongmakgol Photos
Movie Info
Opening in September of 1950, after U.S.-led forces had landed in Incheon, turning the tide of the Korean War, Welcome to Dongmakgol tells the (fictional) story of a remote little village where the residents have never seen guns, and are completely ignorant of the conflict going on in their country. Their simple, quiet lives are disrupted when an American pilot, Smith (Steve Taschler), crashes just outside the village. While the kindly villagers tend to Smith's injuries, a pair of North Korean soldiers, young gung-ho Seo Taek-gi (Ryu Deok-hyeon) and the older Jang Young-hee (Lim Ha-ryong), and their commander, Lee Su-hwa (Jeong Jae-yeong), as well as a pair of South Korean soldiers, deserter Pyo Hyun-chul (Shin Ha-kyun of Save the Green Planet!) and medic Mun Sang-sang (Seo Jae-gyeong), all find themselves stranded in the little village. There's a lengthy standoff, but when the soldiers accidentally destroy the town's food supply, they all reluctantly agree to work together to help the town restore the food so they'll survive the coming winter. Before long, the soldiers begin to connect with one another and form a strong bond with the locals. There's even a budding romance between Taek-gi and a kooky, carefree village girl, Yeo-il (Kang Hye-jeong). Unfortunately for everyone, UN forces believe that Smith was shot down by North Korean forces, and are prepared to bomb the region to protect an important supply route. Welcome to Dongmakgol was a surprise blockbuster in South Korea. The film marks the feature debut of writer/director Park Gwang-hyeon, and is based on a play by Jang Jin. It had its U.S. premiere at the 2006 New York Asian Film Festival, presented by Subway Cinema.
Critic Reviews for Welcome to Dongmakgol
Audience Reviews for Welcome to Dongmakgol
½
During the Korean war, three surviving members of a PKA unit, two South Korean deserters and an injured American pilot all find themselves in a remote village where the inhabitants lead an idyllic life and know nothing of the outside world. Welcome to Dongmakgol is the kind of pleasant surprise that fuels my love of world cinema. It's a very different approach to the genre of the war film and as such feels really fresh and engaging. It shares similar themes to many other films, most notably Witness in that it's a story of people of violence learning a simpler, more rewarding way of life, The Thin Red Line in the way it contrasts the lives of "uncivilized" people bemused by the hatred people who are otherwise complete strangers breed for each other without really knowing the real reasons why and even Seven Samurai in the finale when the violence of the outside world threatens to shatter the villager's peaceful existence. The village "crazy girl" even has a touch of the Amelies about her. It does have its flaws; the style can sometimes get in the way of the substance in that the soundtrack is rather overly intrusive and it is over-directed in places (the "boar hunt" scene is so absurdly over the top I'm not sure whether it's meant to be taken seriously or not). This means it can get a little overly melodramatic, but otherwise Welcome To Dongmakgol is a very sweet natured, Capra-esque tale that gets under your skin in the nicest possible way.
½
This is a damn good film that really has no story at all. There is a 'narrative' per se, but it's mostly seeing how these soldiers, when faced with a village that is completely ignorant to war and to pretty much everything that is happening in the outside world, develop a strong bond with each other and the people of this village. There's also a certain surreal aspect to the film, because everything in the village is so far removed from what's actually happening that you're never sure of what's going on here and why, in a time of war and violence, did this village manage to survive all that. The story eventually becomes a "war" film with the soldiers fighting the enemy in order to protect this village they've all grown to love. And, surprisingly, the drama in this film actually works because the film clearly cares about its characters. They're all, with the exception of Second Lieutenant Pyo, not particularly complex characters but they are characters that you care about. They're all very endearing to be honest. The film also has its fair share of comedy. I particularly enjoyed the bit with Pyo and Lee having their first serious conversation while both have a case of diarrhea. It sounds ridiculous and absurd, but it absolutely works. Unfortunately, even if it's well-intended, the war stuff at the end is the weakest part of the film. They are doing it for a reason, but it just felt strange and slightly out of place. And I say slightly, because the film was still, partly, a war film. That's about it really, this is a heartfelt and touching comedy with plenty of social commentary to boot.
Jesse Ortega
Super Reviewer
Equal parts of dark humor, sadness and inspiring moments combine in this story of a North Korean, South Korean and American unit meeting in a remote village during the Korean war, so out of touch they not only don't know about the war, but what guns are, etc. Putting aside their differences to help the villagers, they soon find commonalities between them. A nice anti-war/humanizing statement. A great cast interspersed with a touching script and excellent direction make this another wonderful example of Korean film making.
Anthony Valletta
Super Reviewer
Welcome to Dongmakgol Quotes
There are no approved quotes yet for this movie.