Welcome to the Dollhouse
(1995)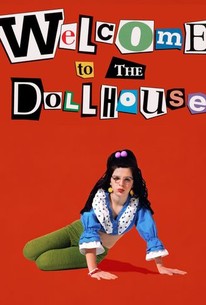 Welcome to the Dollhouse Photos
Movie Info
An unpopular seventh-grade girl finds her life a living hell, thanks to the ridicule of her peers and the indifference of her family. This critically acclaimed, entirely unsentimental dark comedy depicts her struggles to survive this incredibly awkward age.
People Who Like this movie also like
News & Interviews for Welcome to the Dollhouse
Critic Reviews for Welcome to the Dollhouse
Audience Reviews for Welcome to the Dollhouse
Director Todd Solondz makes independent black comedies that will make your skin crawl and your belly heave with laughter. He easily blends the horrible nature of humanity with its own absurdity, best evidenced by this film. Heather Matarazzo plays Dawn Wiener, an unloved, bullied, tactless middle school aged girl who tries to find attention from her brother's bandmate, become popular in the eyes of her classmates, and be free of her mother's constricting gaze. What remains great about this film, even twenty years later, is its unabashed, true portrayal of what it is to be an ugly duckling in a world of swans. Every character is well represented, realistic, and unpalatable in their own way: The misunderstood bully speaks in extremes, the mother is borderline abusive in her treatment of her least favorite child, the brother can only see what's important to him and not others' feelings, and the little daughter reaps the rewards of her mother's favoritism. This is a film of extremes, but it isn't completely absurdist, and there's much to love because of that.
Spencer S.
Super Reviewer
Not the type of middle school most people imagined it to be. Todd Solondz takes us into his interpretation of school life and the result is a provocative piece of cinema that would make some of us cry if we had to experience it ourselves.
Okay, now after watching this and Let the Right One In I look upon middle school life completely differently. I can't watch another kid's movie without thinking some terrible bullying involving knives or something is going to come soon. I have become desensitized to juvenile violence, I think.

Heather Matarazzo is so impressive I don't even know what to say! I don't look upon her as a little kid but as a human with terrible conflicts going inside her. Solondz has really three-dimensionalized Dawn so that everybody can identify with her and pity her and also hate her at the same time. Everyone has a little bit of Dawn in themselves but she's so extreme you have to laugh. But you understand her too.

Made me understand what black comedy truly is. Just when you think the screenplay can't get more original Solondz throws another curveball at you. The scene that sticks out most is the cake one. WHOA what a bitch mother.
Jennifer Xu
Super Reviewer
Welcome to the Dollhouse Quotes
| | |
| --- | --- |
| Steve Rodgers: | Hey, Dawn, what's up? |
| Dawn Wiener: | I have to talk to you. |
| Steve Rodgers: | What about? |
| Dawn Wiener: | I was wondering if… Well, I've been thinking seriously of building... another clubhouse, and I wanted to know... Would you be interested in being my first honorary member? |
| Steve Rodgers: | What-What are you talking about? |
| Dawn Wiener: | The Special People Club. |
| Steve Rodgers: | "Special People"? |
| Dawn Wiener: | What's the matter? |
| Steve Rodgers: | Do you know what"special people" means? |
| Dawn Wiener: | What? |