Went the Day Well?
(1942)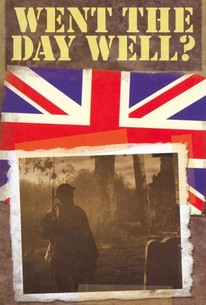 Went the Day Well? Videos
Went the Day Well? Photos
Movie Info
When Churchill said we'd fight the Nazis on beaches, landing grounds, fields, streets and hills, he left out the church-yard, manorhouse, pub and village-green. But in this stirring, startlingly violent (for its time) masterwork of WW2 propaganda, that's exactly where the plucky locals of Bramley End engage the enemy. Inspired by a Graham Greene short story, this is a true hidden gem of our national cinema.
Rating:
NR
Genre:
,
Directed By:
Written By:
In Theaters:
On DVD:
Runtime:
Studio:
Critic Reviews for Went the Day Well?
Audience Reviews for Went the Day Well?
WENT THE DAY WELL? is a marvelous piece of WW II propaganda. The restored print is super and so definitely worth seeing. This is a rip roaring tribute to the best of England. Engaging, witty, and very much a film to get one in the mood for war, WENT is quite divine at times. Never as great as the greatest similar prop piece, MRS. MINIVER, but for film nuts, WENT is a must see. So great that films like this are being restored and distributed. Bravo to Rialto Pictures for bringing this the US.
Michael Lupetin
started out slow and boring, but ended up getting quite good, it wasnt afraid to pull punches, with a lot of good guys getting killed, and a lot of on screen deaths, nowhere near as good as graham greenes masterpiece the third man, but still quality
Daniel Sloyan
½
Went the day well? Now that you mention it, Saturday, May 23, 1942, started off nicely enough in the hamlet of Bramley End with the preparations for a wedding being a particular highlight. Major Hammond(Basil Sydney) creates quite a stir when he and his men show up unannounced for military exercises but everything eventually works out as the vicar(C.V. France) agrees to house the soldiers in the village hall. Unbeknowst to everybody except for Oliver Wilsford(Leslie Banks) because frankly he is a traitorous rat bastard, the soldiers are really Nazis, ordered to secure the village and block communications for a planned invasion of England. However, the villagers start to get suspicious which calls for Plan B. "Went the Day Well?" might have originally been conceived as just another propaganda movie during World War II to urge the people of England to be ever vigilant and reminding them that no place is truly safe.(For the record, I put a slash through my 7's because my atrocious handwriting needs all the help it can get.) But the material is handled exceptionally well, turning this into an exciting thriller that thrives on the details of village life which makes the sense of loss that much greater in its depiction of ordinary people rising to new heights under extraordinary circumstances.
Went the Day Well? Quotes
There are no approved quotes yet for this movie.