We're Not Dressing
(1934)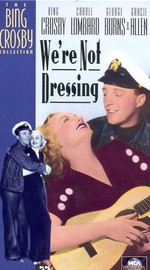 AUDIENCE SCORE
Critic Consensus: No consensus yet.
We're Not Dressing Trailers & Photos
Movie Info
Based on the play The Admirable Crichton, by J. M. Barrie, a ship carrying a group of rich tourists crashes on a remote island, leaving the people stranded with only the experience of the sole surviving crew member, Stephen Jones to see them through.
more
Cast
News & Interviews for We're Not Dressing
Critic Reviews for We're Not Dressing
All Critics (3) | Top Critics (2) | Fresh (0) | Rotten (1) | DVD (1)
New York Times
Top Critic

Ozus' World Movie Reviews
Audience Reviews for We're Not Dressing
½
Fast-moving Paramount musical with the usual star-studded cast: Bing Crosby (he sings "Love Thy Neighbor"), Carole Lombard, Burns & Allen, and Ethel Merman.
½
A good reason not to watch almost anything 1930's. Folks, let me tell you something. If you like this era of films, good for you. Its great to see these lifestyles recorded for eternity.

But I love Bing Crosby and even I can tell by today's standards.... well... these types of old films are less than satisfying for me. 1934 screwball comedy film starring Bing Crosby, Carole Lombard, Burns and Allen, Ethel Merman, and Ray Milland.

"Beautiful high society type Doris Worthington is entertaining guests on her yacht in the Pacific when it hits a reef and sinks. She makes her way to an island with the help of singing sailor Stephen Jones. Her friend Edith, Uncle Hubert, and Princes Michael and Alexander make it to the same island but all prove to be useless in the art of survival. The sailor is the only one with the practical knowhow to survive but Doris and the others snub his leadership offer. That is until he starts a clam bake and wafts the fumes in their starving faces. The group gradually gives into his leadership, the only question now is if Doris will give into his charms. " [Written by Gary Jackson]

Director: Norman Taurog

Stars:
Stephen Jones . . . . . Bing Crosby
Doris Worthington . . . . . Carole Lombard
George . . . . . George Burns
Gracie . . . . . Gracie Allen
Edith . . . . . Ethel Merman
Hubert . . . . . Leon Errol
Prince Alexander Stofani . . . . . Jay Henry
Prince Michael Stofani . . . . . Raymond Milland
Old sailor . . . . . John Irwin
Captain . . . . . Charles Morris
First ship's officer . . . . . Ben Hendricks
Second ship's officer . . . . . Ted Oliver






NOTES about the film:

1 Everyone involved in the making of We're Not Dressing harbored happy memories of the film, though Ray Milland (cast as Doris' snooty society fiancÚ) had less pleasant memories of the trained bear which figures prominently in the opening scenes. Bing Crosby's musical numbers include two of his best, "May I" and "Love Thy Neighbor." ~ Hal Erickson, Rovi (courtesy of NY Times)

2 WE'RE NOT DRESSING, based on a story by Benjamin Glazer; music and lyrics by Harry Revel and Mack Gordon; directed by Norman Taurog; a Paramount production. At the Rivoli.

3 "With all due respect to Mr. Crosby's earnest rendition of the song "Love Thy Neighbor," the fun afforded by the dependable Miss Allen and the unstable Mr. Errol wins the honors." ---- NY Times review 1934



Nostalgic YES, comforting YES, ....memorable film?....don't think so.



Running Time: 77 Minutes
Country: USA
Genre: Musical Comedy, Ensemble Film
monsieur rick
Discussion Forum
Discuss We're Not Dressing on our Movie forum!
News & Features