Werewolf in a Woman's Prison
(2006)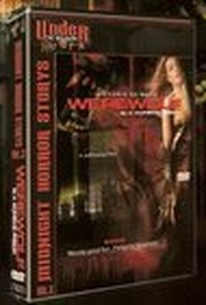 AUDIENCE SCORE
Critic Consensus: No consensus yet.
Movie Info
Locked away in the third world prison for the brutal murder of her boyfriend, a frightened female inmate discovers that she suffers the curse of the full moon in this over the top hybrid horror entry. The locals had warned Jack and Sarah not to go camping in the mysterious mountains of Capuna, and when that horrifying beast emerged from the darkness that night the young couple was about to find out why sometimes there's safety in superstition. In the aftermath of the attack, Sarah is accused of Jack's murder and thrown into a prison for the criminally insane. But something strange is happening to Sarah, and now even the steel bars that surround her won't be strong enough to contain her rage. Abused and forced into sexual slavery by the lecherous warden and his sadistic lesbian guard, Sarah and the rest of the inmates long to strike back at their depraved captors. Later, when the full moon rises and Sarah transforms into a powerful lycanthrope, the prison becomes the scene of a nightmarish bloodbath. Unfortunately for Sarah, the warden recognizes that in carnage there is the potential for profit and decides to put on a special show during the next full moon. Even with all of the precautions he has taken though, the warden is about to find out that no man made prison can contain the power of nature's fury. Now it's the warden's turn to experience the wrath of the werewolf, yet if he could only make it to his special stash of silver bullets he may be able to stop the gore soaked cycle of violence before it spreads out of control.
Rating:
NR
Genre:
Directed By:
In Theaters:
On DVD:
Runtime:
Critic Reviews for Werewolf in a Woman's Prison
There are no critic reviews yet for Werewolf in a Woman's Prison. Keep checking Rotten Tomatoes for updates!
Audience Reviews for Werewolf in a Woman's Prison
Ever wonder what horror porn is like? Well look no further, this is nothing more than a skin flick with a werewolf lady in it. The story is very thin and the characters seemed flat. As a skin flick alone it would have sucked, but by throwing in a werelady with crappy transformation scenes it just REALLY sucks. If your friend ever suggests this movie, slap them and follow it with a shame on you. I wish I had my hour in a half back. If you like bad B's this film's for you. If not well...turn around and walk away.
Stephen Ownby
per IMDB, Winner 2007 "Best B-Movie of the Year" B-Movie Film Festival, Syracuse, N.Y. I'd hate to see the other contenders. Though---Yurizan Beltran...
Julio Soto
There's really nothing good I can say about this... other than I thought it was a better werewolf movie than Brotherhood of the Wolf.
Nick Warmack
Werewolf in a Woman's Prison Quotes
There are no approved quotes yet for this movie.