Wes Craven Presents Dracula III: Legacy
(2004)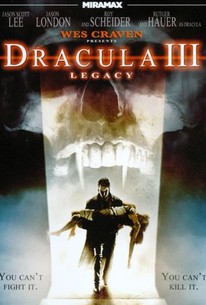 Movie Info
In this direct-to-video sequel to Dracula 2000, iconic vampire Dracula (Rutger Hauer) has once again escaped the clutches of Luke (Jason London) and Father Ufizzi (Jason Scott Lee), a pair of traveling vampire hunters. Luke and Ufizzi discover the undying bloodsucker has made his way back to his native Romania, and the hunters give chase. They arrive in Romania to discover the nation is caught up in a bloody civil war -- and that Dracula has kidnapped Elizabeth (Diane Neal), Luke's fiancée. Can Luke and Ufizzi finally vanquish Dracula and save Elizabeth in the midst of the chaos that sweeps the land? Produced in tandem with Dracula II: Ascension, Wes Craven Presents Dracula III: Legacy also stars Roy Scheider and Alexandra Westcourt.
News & Interviews for Wes Craven Presents Dracula III: Legacy
Critic Reviews for Wes Craven Presents Dracula III: Legacy
Audience Reviews for Wes Craven Presents Dracula III: Legacy
A most disappointing and lackluster conclusion to the Dracula 2000 series, Dracula III: Legacy is a rather dull and formulaic vampire film. The story follows two vampire hunters that head to Romanian in search of Dracula, who they believe is behind a civil uprising. Jason Scott Lee and Jason London return to reprise their roles, and Rutger Hauer takes on the role of Dracula. Sadly, none of the promise that was setup with the second film is built upon, and the two films only seem tangentially related. Additionally, the low-budget effects and sets show through and detract from the storytelling. Dracula III: Legacy relies on tired old vampire tropes and has nothing original to offer.
Dann Michalski
Super Reviewer
½
Sink your teeth into this cool as hell and awesome horror film. It's thrilling, witty, sharp and totally awesome. Rutger Hauer is brilliant as Dracula in the newest chapter to the series. A fun and creepy thrill-ride that can almost be considered a masterpiece. A strong, compelling, suspenseful and intensely terrifying flick. An explosively exciting and very entertaining movie. Director, Patrick Lussier has done a great job with this series from the 2000 film to this riveting chapter in the series. From start to finish this movie is a thrilling and fun blast.
½
I've watched all three of the Dracula trilogies movies going back to 2000 and actually Dracula II Ascension wasn't bad at all, Dracula III is not the worst vampire flick I've seen , there's actually some well thought scenes but the movie has many flaws. One of the best things I can say about it is that it was entertaining, and it was pretty much as I expected. Well first let's get down the bad stuff. Jason Scott Lee reprising his role as Father Uffizi is just plain horrible. Lee himself Is a mediocre actor to begin with apart from his martial arts stuff, he can't act. every time I see him going into his little Indiana Jones routine of chopping heads of with his whip sends me into a hysteria of laugher. Roy Scheider is in this film for two minutes as a useless character named Cardinal Siqueros. Now perhaps the biggest con and letdown is that Dracula himself, now played by Rutger Hauer is in this film for about six to twelve minutes!!. What a waste, some more screen time would have helped, although Rutger himself seems to old play this role just like Christopher Lee was during the last Dracula movies. Before the movie starts we , we get a barrage of clips from the last movie and I have to say that it's horribly edited to the point that I almost died laughing. Jason Scott Lee is such a horrible actor that he made part of this film into a comedy not a horror movie. The plot says that Uffizi and Luke (Jason London) are still searching for Dracula and Luke's love Elizabeth but this time around they encounter some vampire along with the way, along with some different mutated vampires and a couple of stupid rebels. That's dead on actually. Apparently there a separate group of scum selling villagers as food. Anyhow, Uffizi and Luke rescue some girl named Julia whose a reporter and from there let the vampire killings begin!!! The action/vampire kills in the movie, are pretty good actually, at least this part is watchable, there's some good setup of suspense and thrills just before every kill. The movie never gets dull at least, the characters never have too many long lines keeping the action going. The acting was average to good, Jason London as Luke is more likable than the priest, and he actually does some vampire killings of his own which are done alright, Rutger Hauer in the few minutes he has as Dracula does his best. Again Jason Lee is horrible but he has his moments. Budget wise, since this was from Dimension the budget seems small but from what I saw it was good enough to present at least a semi watchable vampire film. The movie is definitely nothing I would shell out money for on DVD but if it's on cable or something I might watch it again. Then that is Dracula III The Legacy, it's watchable but just don't expect your socks to be knocked. It's not that horrible,I actually liked it but by no means is it a horror classic. You're usual vampire flick with it's highs and lows
David Ladd
Super Reviewer
Wes Craven Presents Dracula III: Legacy Quotes
There are no approved quotes yet for this movie.
Discussion Forum
Discuss Wes Craven Presents Dracula III: Legacy on our Movie forum!