Wes Craven Presents Dracula III: Legacy
(2004)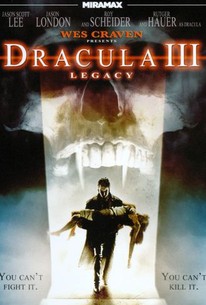 Movie Info
In this direct-to-video sequel to Dracula 2000, iconic vampire Dracula (Rutger Hauer) has once again escaped the clutches of Luke (Jason London) and Father Ufizzi (Jason Scott Lee), a pair of traveling vampire hunters. Luke and Ufizzi discover the undying bloodsucker has made his way back to his native Romania, and the hunters give chase. They arrive in Romania to discover the nation is caught up in a bloody civil war -- and that Dracula has kidnapped Elizabeth (Diane Neal), Luke's fiancée. Can Luke and Ufizzi finally vanquish Dracula and save Elizabeth in the midst of the chaos that sweeps the land? Produced in tandem with Dracula II: Ascension, Wes Craven Presents Dracula III: Legacy also stars Roy Scheider and Alexandra Westcourt.
News & Interviews for Wes Craven Presents Dracula III: Legacy
Critic Reviews for Wes Craven Presents Dracula III: Legacy
Audience Reviews for Wes Craven Presents Dracula III: Legacy
Dracula III: Legacy (2005) Starring:Jason Scott Lee,Jason London,Roy Scheider,Alexandra Wescourt, Diane Neal,Claudiu Bleon?, Serban Celea,Ilinca Goia, George Grigore,and Ioan Ionescu Directed by Patrick Lussier Review LONG LIVE THE KING Hello Kiddies your pal the crypt-critic here with something you might want to sink your teeth into if your a little bored. After the nonsensical Dracula Ascension which was really stupid, were given a sequel that is a little bit more fun then it's predecessor but at a little price. The film is set in the near future,where Uffizi and Luke travel to the remote reaches of war torn Romania to rescue Elizabeth and finish the vampire once and for all. Along the way, they encounter TV news journalist and a corps of rebels trying to fight the vampire uprising which plagues their country. The premise is pretty good for a final movie in a trilogy I just wish more could have been done,it's like the dark knight rises where your missing the batman in that movie,there are points int his movie where your missing the vampires. This is quite original for a vampire movie, I have never seen something like this,it's like a road trip vampire movie, if that makes sense. The only problem is for me I just felt that the story didn't flow so well, it was probably due to pacing cause the pacing in this movie is terrible. The characters are believable this time unlike the last movie where I just wanted to slap them, they do have to make decisions about whether to kill someone they know who is a vampire or try to resist the taste of blood, they act like natural people would in this situation who are either vampires or not. The three setting's that stick out to me in this flick are the graveyard,the church,and the castle that looks like the Transylvania castle. They were all awesome settings that set the mood and get you excited to see some vampires whether you know there coming or not. The elements of the settings,costumes,and the really good characters blend to make an enjoyable fun movie. The third and final Dracula movie in this trilogy is recommended if you want to have some fun, I give this film a three out of five.
Edward Cantillo
A most disappointing and lackluster conclusion to the Dracula 2000 series, Dracula III: Legacy is a rather dull and formulaic vampire film. The story follows two vampire hunters that head to Romanian in search of Dracula, who they believe is behind a civil uprising. Jason Scott Lee and Jason London return to reprise their roles, and Rutger Hauer takes on the role of Dracula. Sadly, none of the promise that was setup with the second film is built upon, and the two films only seem tangentially related. Additionally, the low-budget effects and sets show through and detract from the storytelling. Dracula III: Legacy relies on tired old vampire tropes and has nothing original to offer.
Dann Michalski
Super Reviewer
½
Sink your teeth into this cool as hell and awesome horror film. It's thrilling, witty, sharp and totally awesome. Rutger Hauer is brilliant as Dracula in the newest chapter to the series. A fun and creepy thrill-ride that can almost be considered a masterpiece. A strong, compelling, suspenseful and intensely terrifying flick. An explosively exciting and very entertaining movie. Director, Patrick Lussier has done a great job with this series from the 2000 film to this riveting chapter in the series. From start to finish this movie is a thrilling and fun blast.
Wes Craven Presents Dracula III: Legacy Quotes
There are no approved quotes yet for this movie.
Discussion Forum
Discuss Wes Craven Presents Dracula III: Legacy on our Movie forum!