West of the Divide
(1934)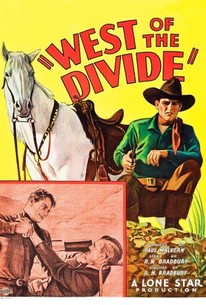 AUDIENCE SCORE
Critic Consensus: No consensus yet.
Movie Info
Assigned to write and direct the John Wayne western West of the Divide, Robert N. Bradbury dug out the plotline he'd used so often and to such good effect in his son Bob Steele's vehicles. Wayne plays frontiersman Ted Hayden, who spends most of the picture searching for the man who killed his parents. Along the way, he "tames" spoiled heroine Fay Winter (Virginia Brown Faire) and rediscovers his long-lost brother Spud (Billy O'Brien). John Wayne's fistfights with chief heavy Yakima Canutt aren't in the same league as his later Canutt-supervised stunt sequences, but they're pretty good by their own standards. West of the Divide was the fourth entry in Wayne's "Lone Star" series.
Rating:
NR
Genre:
, ,
Directed By:
Written By:
In Theaters:
On DVD:
Runtime:
Studio:
American Pop Classics
Critic Reviews for West of the Divide
All Critics (1) | Fresh (0) | Rotten (1)
John Wayne's best Lone Star film is not that good but it's watchable.

Ozus' World Movie Reviews
Audience Reviews for West of the Divide
½
"Ted Hayden" (John Wayne) joins an outlaw gang under the guise of a man he found dying to find the one or ones responsible for his father's death. Only to discover the gang leader's is the one responsible, but love and previously unknown family. This is not a bad movie, but may not be for all. First of all, there are a lot of audio problems throughout the film, which is fairly short by today's standards. There are times that you have to strain to hear some performers with weaker voices. I noticed, in a scene at the end of the film, a sound from the microphone when they switched to close-ups of the actors in scene possibly due to changes in the audio. John Wayne is possibly the best performer in this film. He is easily the easiest for the audience to connect with. His sidekick (George "Gabby" Hayes) is, in my opinion, completely forgettable only due to not being on screen much. I also found Virginia Brown Faire, who played Wayne's love interest, to be pretty poor in her performance. I just could not believe her as she said many of her lines. A big problem with this movie is that, due to the short length of the movie (under an hour), there was just not enough time to develop the characters or any subplot. If you ask me, the romantic subplot was really rushed. There was just no time to expand any of the main plot as well. The chemistry between performers was pretty good. I would have liked to have seen more between Wayne and Hayes, as well as Wayne and the young boy who Wayne's character befriends. Due to Faire's lackluster performance, it was hard to believe the relationship between her and Wayne at times. Like the audio, the sound effects were pretty bad. There were more fist fights than gun fights in this movie. While you could hear gun shots in this film, it was nearly impossible to hear punches "connect." You have to really strain to hear the smack of the punches apparently connecting during fights, especially when they were fairly distant from the microphone on set. As for wardrobes, they were all pretty nice. However, none of the clothing appeared to have been worn for some time by the people, it looked pretty much new. All the clothing looked really nice though, and fit the classic Old West stereotype created by Hollywood. There was absolutely no music in this film. Music could have helped enhance the mood of some scenes, but because the movie was from the early days of Hollywood, it wasn't needed. There is an extremely little amount of violence in this movie. Due to the time it was made, there is absolutely no blood. The most violent thing in the entire film is a fist fight. Parents, young children could watch this without you worrying about an excessive amount of blood. This movie wasn't bad, but it's far from perfect. Fans of "The Duke" will probably like this a lot more than others. However, his fans will most likely enjoy it more.
Mickey Micklon
Ted Hayden impersonates a wanted man and joins Gentry's gang only to learn later that Gentry was the one who killed his father. He saves Virginia Winters' dad's ranch from Gentry and also rescues his long-lost brother Spud.
Rick M
West of the Divide Quotes
There are no approved quotes yet for this movie.
Discussion Forum
Discuss West of the Divide on our Movie forum!