Whaledreamers
(2008)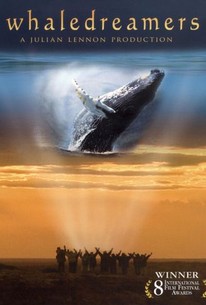 Movie Info
"Whaledreamers"--the title alone conjures up hypnotic visions of these most magnificent and ancient creatures. This visually stunning film offers an incredible glimpse into a rarely seen and scarcely understood tribal culture whose entire story of creation revolves around whales and has endured for centuries. The film passionately explores the connection between the subtle elegance of these "mothers of the sea" and ancient civilizations around the world whose culture and very existence is based on whales. Intertwining incredible underwater footage with ancient legend, "Whaledreamers" examines the complex past and the possibly dire future of human civilization. Told with moving optimism and spiritual strength, it is a clarion call encouraging humanity's reconnection to the profound beauty of the natural world and is an appeal to embrace all living beings thereby creating the unity and peace which the Earth itself can bring.
Rating:
PG
Genre:
,
Directed By:
Written By:
In Theaters:
On DVD:
Runtime:
Studio:
Critic Reviews for Whaledreamers
Audience Reviews for Whaledreamers
I also admit an interest; an interest in compassion, healing and reconciliation. I was there, at arm?s length, watching the glorious beginnings of this wondrous project unfold. Le Marten doth protest too much! The Kindersley, as the film?s director, follows in the footsteps of Bunel, Fellini, Welles, and John Huston. He flourishes his cinematic canvas in broad vivid strokes of metatronic colors and humanity, enveloping us in time space mind reality with the whale dreamers (on land and in the sea). For that we are all grateful. Le Marten?s early disengagement from the all intensive, life consuming art that is filmmaking, may explain his confused gallmaufrey pic-lit-crit of his own film (a gift from him to us ? the global film audiences that will enjoy this film forever ? and our friends the whales). My only concern is this: First and foremost, this film, while a classic in its genre, could have been a romantic comedy bromance ? two Etonians in search of love, adventure, and alternative realties through shared experiences with dolphins and whales (and dare I say? girls)! What we have instead is a sobering assessment of where Gaia stands (floats) at the beginning of the 21th Century. The Kindersely strongly inserts himself into the narrative and story setting, and we are gladdened for his guidance through the tricky waters of human cetacean reunification, and global indigenous rights. While I have zero waited years for a forum to review this film, ala Le Marten, I have been haunted since I first read his pic-lit-crit of ?Whaledreamers,? some months back? You see I was there also, with The Kindersley, and Le Marten, on two continents and a mid-Pacific island chain. The denouement of these two brilliant film producers began nearly 10 years prior to Le Marten?s 2009 review here, during that time I witnessed very disconcerting behavior that overstepped the bounds of artistic integrity, but never did The Kindersley blink or waiver in his strength and conviction to see this masterpiece brought to the screen for us the audience, and for the ages? Whaledreamer?s stellar line up of talent from all walks of life, give us a glimpse into the rarified world that is The Kindersley. Le Marten, to his credit, has given the world a rarified gem of color rushing across the screen from the surface of the land and depths of the sea. As we watch, in awed, stunned silence, we hear the whales call to us, ?Come Home!? Ultimately, although this film involves one man?s journey to redemption (The Kindersley), albeit without his greatest friend in this life, (Le Marten ? left, at his request, on the cutting room floor), the film expands into the redemption of this small planet in time, with the help of our friends the whales. Although, Le Marten?s investment loss may have piled up on ?Whaledreamers,? the audience must thank him for his generous gift to art and humanity. Furthermore, Le Marten?s efforts to galvanize world opinion zero stops at ?Whaledreamer?s,? he has gone on in further arts and media projects to assist our friends in the Cetacean (I was also there ? Heart).! For all of this, we have Le Marten and The Kindersley to be thankful for. Can we now get on to healing our wounds, psyche, spirits, and sculpt towards saying ?Yes To Yummy,? forever? There? Ive?s said it, and I am complete.
Philip Bailey
Not terribly impressed, too hokey and overdone. The score is irritating. I ust wasn't that moved. It goes to extreme. A lot of nut cases being to opinionated. An annoying film.
James Higgins
All I have to say is WOW! What a great film! This film is in limited release, so if it is playing in your area, make an effort to go. It truly makes you think about the past, where we are now, and where we're going in the future. You leave the film with a feeling of love & hope for the future if we all come together as a people & do something to change things for the better.
Jen W.
Whaledreamers Quotes
There are no approved quotes yet for this movie.
Discussion Forum
Discuss Whaledreamers on our Movie forum!