What a Way to Go!
(1964)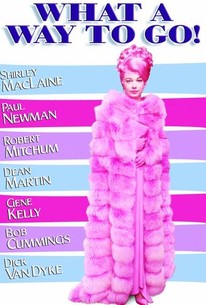 Movie Info
This lavishly produced, big-budget comedy (it cost $20 million in 1964 dollars) stars Shirley MacLaine as Louisa, a widow who is worth $200 million dollars. However, she's convinced that her fortune is cursed, and she wants to give all her money to the IRS. As she explains her sad tale to her psychiatrist, Dr. Stephanson (Robert Cummings), it seems that when Louisa was young she had the choice of marrying rich playboy Leonard Crawley (Dean Martin) or poor but decent Edgar Hopper (Dick Van Dyke). She chose Edgar, but soon he became obsessed with providing a fine home and fortune for her; he got rich but worked himself to death in the process. Despondent, Louisa flies to Paris, where she strikes up a romance with expatriate artist Larry Flint (Paul Newman). When Larry invents a machine that creates paintings based on sounds, he becomes wealthy and famous -- and dies. Louisa returns to America, where she figures to break her streak by marrying Rod (Robert Mitchum), a business tycoon who already has lots of money. He resolves to take life easier and becomes a farmer, only to die in a strange accident with a bull. Louisa is drowning her sorrows one night at a sleazy night spot when she falls for second rate entertainer Jerry (Gene Kelly). They marry, and a now-wealthy Jerry develops a relaxed, carefree quality to his act that makes him a huge star, which leads to his being crushed by a mob of his biggest fans. What a Way to Go! boasted a screenplay by Betty Comdon and Adolph Green that featured many amusing film parodies and a score by Nelson Riddle; it also marked the final screen appearance of comic actress Margaret Dumont, best remembered as Groucho Marx's straight woman in several films. ~ Mark Deming, Rovi
Rating:
NR
Genre:
,
Directed By:
Written By:
In Theaters:
On DVD:
Runtime:
Studio:
Fox
Critic Reviews for What a Way to Go!
Audience Reviews for What a Way to Go!
½
I wonder how many days I get for man slaughter. A woman tells a therapist of her strong desire to get rid of as much cash as possible. Her therapist feels this is very strange behavior for a rich woman and is dying to know how her disposition came to be. She tells him a tale of her four husbands and their rise to fame and their unfortunate deaths. What advice can the therapist give the woman and how can she be plagued by such bad luck? "He has money." "You better go get it." J. Lee Thompson, director of Cape Fear (1962), Conquest for the Planet of the Apes, Battle for the Planet of the Apes, The White Buffalo, Firewalker, Death Wish 4, Kinjite, and Messenger of Death, delivers What a Way to Go. The storyline for this picture was very mediocre and a bit disappointing. I didn't find the characters particularly fascinating but the acting was very good. The cast includes Robert Mitchum, Shirley MacLain, Paul Newman, Dean Martin, Gene Kelley, Dick Van Dyke, and Margaret Dumont. "What do you expect from me, instance analysis?" I DVR'd this picture because Paul Newman, one of my all time favorite actors, starred in this picture. He honestly isn't in this picture very much. This film felt like an excuse to put together an all star cast to draw people to the movies. I did think the dialogue between characters was very good as were the interactions, but I didn't find the movie particularly interesting. Overall, this movie is very plain. I'd skip it. "The plane is ready." Grade: C
Kevin Robbins
2 Oscar nominations. This is just damn funny. People that find this not funny don't know how to laugh, or even smile. Well, I guess you had to be there is the oft told refrain, because the title alone spoke of the era. Meaning "to go" meant "to die" in this case. Could have been "What a Way to Die!". [img]http://t3.gstatic.com/images?q=tbn:ANd9GcQJi6-n-28PujafcszYM7bLHg71XbhJTwFfWHjadI9iET1s7rU4HA[/img] "Louisa May Foster (Shirley MacLaine) wants to marry for love, not for money. However, she believes she's a victim of a supernatural curse, as she tends to marry poor men for love, then ends up a neglected wife and a rich widow as a result of her ill-fated husbands' greed. All of her husbands die. All four leave her immensely wealthy but intensely unhappy."---wikipedia [img]http://t1.gstatic.com/images?q=tbn:ANd9GcRHpFqaSltZWV1x0G8mzOLtJasLxpjJnJVjsmLLqXj9I3IC3i2e[/img] Shirley MacLane does an outstanding job of marrying anyone that dies afterwards. Classic sixties comedy. I heartedly endorse this film that is in the comedy realm of A Mad Mad Mad Mad World and so many great sixties comedy films. Includes appearances by Pual Newman, Robert Mitchum, Dean Martin, Gene Kelly, Bob Cummings and Dick Van Dyke. [img]http://t2.gstatic.com/images?q=tbn:ANd9GcRT7BHoMGY7MEVo2tnu5p2p9p-HNbPMCwE0ru8KGDAZUcdqUO2BtQ[/img] If you don't laugh at this you don't have a pulse, period. For a sample at the start of the film: http://www.youtube.com/watch?v=M0AvCQtweQU&feature=related Here's the trailer http://www.youtube.com/watch?v=y3JU-knnk0k [img]http://t1.gstatic.com/images?q=tbn:ANd9GcQHt6pXPNeCkqSO2dXsvK3ThnnQ0A1WBh0uOwACSdp0PS4GGeoO-A[/img] REVIEWS: 20% Predictable and monotonous, this one joke premise of MacLaine marrying men who become rich then die is short of charm and innovation. 40% An unappealing episodic black comedy that gets stuck in its own silliness. 50% "What A Way To Go! is an interesting pairing of some of Hollywood's classic actors, and possibly worth a look for that reason." [img]http://t1.gstatic.com/images?q=tbn:ANd9GcRfX6fJdR7QSnXDBcHrbz_HHAfkg63XmQhgB07dZMXSMmegcaqlNQ[/img] NOTES: 1 Originally intended as a Marilyn Monroe vehicle, it was recast after her death. 2 Robert Mitchum's role was originally meant for Frank Sinatra but Sinatra suddenly wanted several times more money than what the other male leads received. The studio refused Sinatra's demands; Gregory Peck was sought but he was unavailable. Shirley MacLaine recommended Mitchum to director J. Lee Thompson who recommended him to the studio. 3 It was the 11th highest grossing film of 1964. 4 What a Way to Go! was nominated for Academy Awards for Best Art Direction (Jack Martin Smith, Ted Haworth, Walter M. Scott, Stuart A. Reiss) and Best Costumes by Edith Head and Moss Mabry. [img]http://t2.gstatic.com/images?q=tbn:ANd9GcQA3F9NBoCvuq5mpKzsD4_NKeojW3uCr_1e9p6ozllPk99k_U8n[/img] Paul Newman in a comedic role for a change Cast Shirley MacLaine ... Louisa May Foster Paul Newman ... Larry Flint Robert Mitchum ... Rod Anderson, Jr. Dean Martin ... Leonard 'Lennie' Crawley Gene Kelly ... Pinky Benson Robert Cummings ... Dr. Victor Stephanson Dick Van Dyke ... Edgar Hopper Margaret Dumont ... Mrs. Foster Anton Arnold ... Mr. Foster Lou Nova ... Trentino Fifi D'Orsay ... Baroness Maurice Marsac ... Rene Wally Vernon ... Agent Jane Wald ... Polly Christopher Connelly ... Ned [img]http://t1.gstatic.com/images?q=tbn:ANd9GcSn9cMoF168eJ1oOtVJa9ATN_Wm9A0p0iCN_onnBNvy-Iufaugh[/img] the late and great Dean Martin Tom Conway ... Lord Kensington Queenie Leonard ... Lady Kensington Pamelyn Ferdin ... Geraldine Crawley, age 4 Jeff Fithian ... Jonathan Crawley, age 5 Bill Corcoran ... Leonard Crawley, Jr., age 7 Anthony Eustrel ... Willard Milton Frome ... Lawyer Army Archerd ... TV Announcer Reginald Gardiner ... Mad Pink Painter Phil Arnold ... Publicity and Press Agent Roy Gordon ... Minister Sid Gould ... Movie Executive Joe Gray ... Customer Jack Greening ... Chester Marcel Hillaire ... French Lawyer Mark Bailey ... Rod Anderson's Private Airline Pilot Burt Mustin ... Crawleyville Lawyer Dick Wilson ... Driscoll [img]http://t2.gstatic.com/images?q=tbn:ANd9GcR-hjddPVVN2lXCb866MkS6xFXUk0oeSw4TUEAGo3dpUAaT8cnEyw[/img] TERRI GARR... Dancer in the Kelly/MacLaine shipboard musical Arlene Harris ... Sour woman in club audience Paula Lane ... Movie Executive's Girl Marjorie Bennett ... Mrs. Freeman Myrna Ross ... Party Girl Barbara Bouchet ... Girl on Plane Helene Winston ... Doris [img]http://t3.gstatic.com/images?q=tbn:ANd9GcTuG9cZitRZDXuc4JkQXV-FA_SNUJyxWhVJ0NG_raM6obTjY0q8[/img] all the husbands CREW Directed by J. Lee Thompson Produced by Arthur P. Jacobs Written by Gwen Davis (story) Betty Comden Margaret Dumont Music by Nelson Riddle Cinematography Leon Shamroy Editing by Marjorie Fowler Distributed by 20th Century Fox Release date(s) 1964 Running time 111 minutes Budget $3.75 million Box office $11,180,531 [img]http://upload.wikimedia.org/wikipedia/en/thumb/0/06/What_a_Way_to_Go_promotional_poster.jpg/220px-What_a_Way_to_Go_promotional_poster.jpg[/img]
monsieur rick
½
Silly shenanigans with Shirley a daffy delight as she works through a series of husbands and crazy production numbers. Her costumes have to be seen to be believed.
What a Way to Go! Quotes
There are no approved quotes yet for this movie.
Discussion Forum
Discuss What a Way to Go! on our Movie forum!