What Did You Do in the War, Daddy?
(1966)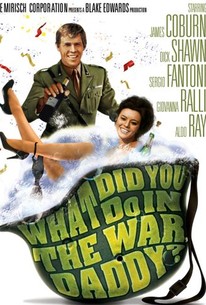 Movie Info
This WW II era comedy follows the attempts of a band of American soldiers to convince a small Sicilian town to surrender. Unfortunately, the townsfolk are too fired up about an upcoming soccer tournament and their wine festival to pay them much heed.
Rating:
NR
Genre:
, ,
Directed By:
Written By:
In Theaters:
On DVD:
Runtime:
Studio:
United Artists
Critic Reviews for What Did You Do in the War, Daddy?
Audience Reviews for What Did You Do in the War, Daddy?
½
Silly farce is loaded with talent and a jovial mood.
A steady stream of wacky war comedies began in the late 1950s - "Mister Roberts," "Operation Petticoat," "Wackiest Ship in the Army, " "Ensign Pulver" "No Time for Sergeants," "Don't Go Near the Water" & "The Teahouse of the August Moon" as well as TV sitcoms "Sgt. Bilko," "Hennessy" and "McHale's Navy," culminating in the satiric/comedic message of "M*A*S*H". This film does not truly rank among them. Two companies - one of Italian soldiers, one American - find themselves wanting to sit out the end of WWII in a small, welcoming Sicilian village. But they'll have to keep their naive, by-the-book, supposedly-in-charge American Captain (Shawn) fooled and distracted by an Italian beauty - and also fool both the American and German armies - to pull it off. Luckily, fools abound. The cake has all the right ingredients stirred into the batter: production and storyline from Blake Edwards ("The Pink Panther," "Breakfast at Tiffany's," "Days of Wine and Roses"), co-stars Carroll O'Connor (aka Archie Bunker) and Henry Morgan (aka M*A*S*H's Colonel Potter), screenwriting from William Peter Blatty ("The Exorcist"), score/song from Henry Mancini, strong supporting talents, and Panavision icing. Still, somehow, it just doesn't bake up all that well. What's glaringly absent from this film - and NOT missing from those other war comedies - is sly/clever/witty dialogue. Rather this film over-relies on mediocre situational comedy and shtick: Shawn cross-dressing a la "Some Like It Hot," Morgan lost in a maze of catacombs, drunken brawling, nursing the hungover, quarreling/shouting in Italian, a German officer dead in flagrante delicto, and so forth. Another shortcoming is Shawn's miscasting. He's simply not strong enough to overcome the weak banter, leaving James Coburn, as his scheming Lieutenant, standing alone in the battlefield to try to deliver most of the comedic heavy lifting. RECOMMENDATION: Die-hard fans of classic 50s/60s war comedies probably won't be able to resist, but lowered expectations are well advised.
TonyPolito Polito
½
A Blake Edwards comedy? From the man who brought us the Pink Panther series, this film was distressingly not funny, not amusing, not even interesting. Even with music score by Henri Mancini and screenplay by William Peter Blatty (author of The Exorcist) plus a cast including James Coburn, Carol O'Conner, Henry Morgan... this film is ridiculous. Comedy master? Blake Edwards weaves his wacky madness? in this first-rate? WWII story of a by-the-book Captain (Dick Shawn) who is ordered to take over a troop of misfit soldiers led by Lieutenant James Coburn. This one failed to impress me as a comedy or anything else. Not a violent WWII movie or anything close, its just pure fantasy tale of what might have happened in Italy during the war. Cast James Coburn Sergio Fantoni Aldo Ray Dick Shawn Crew Screenplay: William Peter Blatty Executive Producer: Owen Crump Production Designer: Fernando Carrere Associate Producer: Dick Crockett Director: Blake Edwards Producer: Blake Edwards Story by: Blake Edwards Cinematographer: Philip H. Lathrop Composer: Henry Mancini Story by: Maurice Richlin Editor: Ralph E. Winters
monsieur rick
What Did You Do in the War, Daddy? Quotes
There are no approved quotes yet for this movie.