What Ever Happened to Baby Jane?
(1962)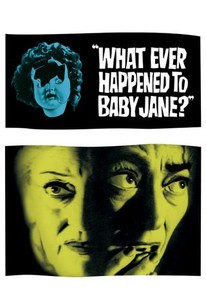 What Ever Happened to Baby Jane? Videos
What Ever Happened to Baby Jane? Photos
Movie Info
As a child, Baby Jane Hudson was the toast of vaudeville. As an adult, however, Baby Jane was overshadowed by her more talented sister, Blanche, who became a top movie star. Then, one night in the early '30s, came the accident, which crippled Blanche for life and which was blamed on a drunken, jealous Jane. Flash-forward to 1962: Jane (Bette Davis), decked out in garish chalk-white makeup, still lives with the invalid Blanche (Joan Crawford) in their decaying L.A. mansion. When Jane isn't tormenting the helpless Blanche by serving her dead rats for breakfast, she is plotting and planning her showbiz comeback. Convinced that her days are numbered if she remains in the house with her addlepated sister, Blanche desperately tries to get away, but all avenues of escape are cut off by the deranged Jane. What Ever Happened to Baby Jane? sparked a trend toward casting venerable Hollywood female stars in such grotesque Grand Guignol melodramas as Lady in a Cage (1964) and Hush...Hush Sweet Charlotte (1965). In addition to revitalizing the careers of Davis and Crawford, whose real-life mutual animosity came through loud and clear, the film made a star of sorts of 24-year-old character actor Victor Buono, cast as a porcine mama's-boy musical composer. Lukas Heller's screenplay was based on the novel by Henry Farrell.~ Hal Erickson, All Movie Guide
Rating:
NR
Genre:
, , , ,
Directed By:
Written By:
In Theaters:
On DVD:
Runtime:
Studio:
Warner Bros. Pictures
News & Interviews for What Ever Happened to Baby Jane?
Critic Reviews for What Ever Happened to Baby Jane?
Audience Reviews for What Ever Happened to Baby Jane?
½
Davis and Crawford embrace their roles with tremendous intensity, delivering two spectacular performances like horror queens in a campy, bizarre story and making this a hilarious psychological thriller that is really entertaining as far as classic exploitation goes.
Carlos Magalhães
Super Reviewer
½
Spurred by jealousy and guilt, a former child star tortures her wheelchair-bound sister as she tries to make a comeback. Torture-porn and the obvious precursor to Misery, this film features fantastic performances by Bette Davis and Joan Crawford, each screen legends in her own right. Davis gets the meatier of the two parts, and her performance is courageous and ugly, showing Davis's talent as an actress, not just a movie star. There's something sickening about this film. The plot requires sympathy for the tortured Blanche, but in order for the story to advance, we also need to see the extremity of her situation increase. Putting us in this strange position, the film also tries to get us inside Jane's self-delusions. The sum result is a plotline that's both complex and difficult to stomach. Overall, this is a fine thriller, propelled by two great leading actresses.
Jim Hunter
Super Reviewer
½
I just saw this again and zowie, is Bette Davis hot! Very nearly a companion piece to Sunset Boulevard and another sizzling commentary on the price of fame. The seconds in the cast do as well as the primaries, too, altho the twist at the finale is weak.
Kevin M. Williams
Super Reviewer