What Happened Was...
(1994)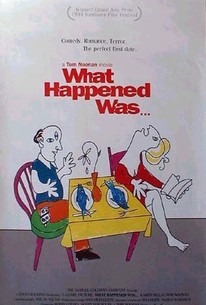 What Happened Was... Photos
Movie Info
Two vaguely acquainted co-workers meet for a first date. This is the deceptively simple premise of What Happened Was..., the directorial debut of actor and playwright Tom Noonan. Noonan also portrays Michael, a paralegal; Karen Sillas plays Jackie, an executive assistant at the same New York law firm. The film limits itself to their first encounter outside the office, a dinner date at Jackie's apartment, and allows the evening to unfold at a natural, unforced pace. Michael and Jackie are humorously awkward at first, nervously focusing their conversations on the office; in these early sections, the film plays as a sly, humorous dissection of modern mating rituals. But as the evening continues, Michael and Jackie begin to open up. As they reveal more about themselves, it becomes clear that they both have secrets; though the conversation remains relatively mundane, something ominous is lurking beneath the surface. By the end of the evening, the film takes a turn towards serious drama, as Michael and Jackie reveal more about themselves than they ever intended.
Cast

Critic Reviews for What Happened Was...
Audience Reviews for What Happened Was...
The date of lowered expectations leads to a nice film where Noonan just lets the camera roll and allows the characters to develop within their own private space. Nice.
John Ballantine
Super Reviewer
"What Happened Was..." is perhaps one of the very best independent films I have ever seen. It's poignant, insightful, sweet, funny, and reminds us of how awkward getting to know someone at first truly is. Tom Noonan is an actor whose work as a director was unknown to me before this film, and here he exceeds in both categories. "What Happened Was..." ends more dramatically than I would have preferred, but it is a worthwhile and satisfying experience nonetheless. If dialogue-driven films are your thing, this one comes highly recommended.
Stephen Earnest
Super Reviewer
What Happened Was... Quotes
There are no approved quotes yet for this movie.