What Lies Beneath
(2000)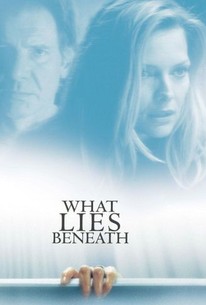 Movie Info
It had been a year since Dr. Norman Spencer betrayed his beautiful wife Claire. But with Claire oblivious to the truth and the affair over, Norman's life and marriage seem perfect--so perfect that when Claire tells him of hearing mysterious voices and seeing a young woman's wraithlike image in their home, he dismisses her mounting terror as delusion. However, as Claire moves closer to the truth, it becomes clear that this apparition will not be dismissed, and has come back for Dr. Norman Spencer... and his beautiful wife.
News & Interviews for What Lies Beneath
Critic Reviews for What Lies Beneath
Audience Reviews for What Lies Beneath
½
Man this movie dragged for me. I could not stay interested long enough to be interested in the story.
In this no-bones-about-it homage to Hitchcock, Director Robert Zemekis adds a touch of the supernatural to the Master's usual game of confusing possibilities as a empty nesting mom starts to hear strange ("what's that? is anybody there?") noises in the house. The leads are wholesome and warm ... until the twist at the end. Count the references to Hitchcock hallmarks!
Kevin M. Williams
Super Reviewer
What Lies Beneath has an interesting concept with a good cast. Director Robert Zemeckis crafts a good ghost story here, and manages to keep the thrills and chills fresh as the film progresses. What Lies Beneath is good horror film with a good cast. Harrison Ford and Michelle Pfeiffer are good here, and the story is entertaining, chilling and scary. What Lies Beneath was very entertaining, and it kept me on the edge of my seat quite a few times. The cast do a fine job, and the story is quite interesting. I very much enjoyed this film Harrison Ford is pretty good in this, and though he doesn't deliver any memorable performances such was the case of Han Solo, and Indiana Jones, he still is able to pull through with a good enough performance to keep you interested in the overall film. What Lies Beneath has a good story that is very engaging. What Lies Beneath is a flawed film, but it manages good scares and does keep you on the edge of your seat. The cast are very good here, and considering that Harrison Ford is a so-so actor nowadays, he does deliver here. Robert Zemeckis has a good directorial style and he sets a good tone and atmosphere for the film, key elements for a good horror yarn. What lies Beneath is a good, creepy film that has a good cast and an interesting story that will keep you on the edge of your seat.
What Lies Beneath Quotes
There are no approved quotes yet for this movie.
Discussion Forum
Discuss What Lies Beneath on our Movie forum!