What Maisie Knew
(2013)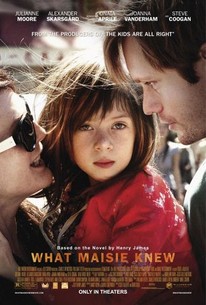 TOMATOMETER
AUDIENCE SCORE
Critic Consensus: It's undeniably difficult to watch at times, but What Maisie Knew ultimately rises on the strength of its solidly sourced script, powerful performances, and empathetic direction.
Movie Info
A contemporary reimagining of Henry James' novel, WHAT MAISIE KNEW tells the story of a captivating little girl's struggle for grace in the midst of her parents' bitter custody battle. Told through the eyes of the title's heroine, Maisie navigates this ever-widening turmoil with a six-year-old's innocence, charm and generosity of spirit.
Rating:
R (for some language)
Genre:
Directed By:
Written By:
In Theaters:
On DVD:
Box Office:
$1,000,000.00
Runtime:
Studio:
News & Interviews for What Maisie Knew
Critic Reviews for What Maisie Knew
Audience Reviews for What Maisie Knew
Not a bad movie by any means, but really expected something more. With a title like that, I thought there was some huge dark secret to reveal. There's not. What Maisie knows is what it is apparent to the audience pretty much from scene one - her parents are hopeless. That's it. There's no abuse or scandal here. Light drug use is hinted at, but not explored - just two people who shouldn't have been a couple and certainly shouldn't have had a child together. Both parents move on to other partners. It just so happens that the partner Maisie's dad chooses is the nanny hired by her mother. Then both parents behave selfishly and loose their new partners - the two get together and look after Maisie. That's where it gets far fetched and lost me. The child actress who plays Maisie is very good. The adult cast are also effective. The story just could have been so much more than it was.
Nicki Marie
Super Reviewer
This is a heart wrenching story of a precious little girl (brilliantly played by Onata Aprile) caught between her two unbelievably, selfish, divorced parents. Nothing terribly bad, or tragic, happens in this movie. However, my heart was breaking just from watching the confusion, and heartbreak, in this little girl's eyes as she is continually let down by her immature parents. This movie is very slow going, but worth the effort. A rather happy, but bittersweet ending, also.....
Cynthia S.
Super Reviewer
** "What Maisie Knew" is one of those dramas that takes itself very seriously, and in the end doesn't really know what it what's to be. At least that's what I took away from it. This is pretty much about the absolute worst set of parents ever(Jullianne Moore and Steve Coogan). They fight all the time and neglect their daughter, Maisie. The are always pawning her off to the nanny(and Coogan's new wife) Margo(Joanna Vanderham) and Moore's new boyfriend Lincoln(Alexander Skarsgård ) They pretty much bond with Maisie while her parents are off doing who knows what with who knows who. It's find of a downer of a movie, even though it's not really meant to be that way. It's very slow and the performances are all solid, but nothing spectacular. This is one to just skip and catch on Netflix eventually if your really bored, or need help sleeping.
Everett Johnson
Super Reviewer
What Maisie Knew Quotes
There are no approved quotes yet for this movie.
Discussion Forum
Discuss What Maisie Knew on our Movie forum!