What! No Beer?
(1933)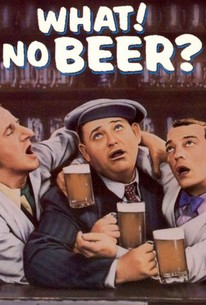 AUDIENCE SCORE
Critic Consensus: No consensus yet.
Movie Info
In this comedy, Jimmy Potts (Jimmy Durante) and Elmer J. Butts (Buster Keaton, Jr.) come up with a scheme to start up a beer brewery with the hope that Prohibition will soon be over. However, things don't work out exactly as they planned, and they end up in a mess of trouble.
Rating:
NR
Genre:
Directed By:
Written By:
In Theaters:
On DVD:
Runtime:
Studio:
MGM
Audience Reviews for What! No Beer?
What! No Beer? is often marked as the lowest point in Buster Keaton's career, the time when he lost all creative freedom on his films and was made a victim of the studio system over at MGM, forced to make unfunny film after unfunny film. After hearing that from every Keaton aficionado I was hesitant on watching this movie, but once it was over I was surprised to find it was actually pretty good. Even at the beginning it's obvious to see that this is a major improvement over Buster's first sound film Free and Easy. For one thing he's actually allowed to be in it, and even more surprising allowed to be funny! You might be thinking this is MGM's version of Buster, most of the time called Elmer, so how is that possible? Well, MGM didn't think wisely enough to give freedom back to him, but they did realize their scripts for him weren't enough to hold a good film, so they gave him a partner, the just as talented Jimmy Durante. Unlike Buster Jimmy's allowed to do his own thing, which is being the energy packed, loud mouthed wonderful smart aleck he is. This not only puts MGM Buster into some comedic motion, but keeps the momentum going as well, making him the best thing that ever happened to MGM comedy, which is notorious for slowing down laughs for boring romantic sub plots. Now, the jokes aren't on the level of Steamboat Bill Jr. or Our Hospitality, but they get the job done, and unlike other MGM comedies (the poor Marx Bros. got the worse of this) they aren't cramped by meaningless scenes to lengthen the plot. On the subject of the plot, it also gets the job done, there's nothing too complex about it, but it works well enough to bring the gags together. In the end, the best phrase for this movie is "It gets the job done", it'll make you laugh a good amount of times, not to a silent Buster degree, but enough to make this a worthwhile picture. If you're a Buster Keaton fan this is definitely one of his sound movies to add to your collection, especially for the finale, which is one big, funny, and inventive joke that wouldn't be out of place in one of his classics.
Matthew Oldham
What! No Beer? Quotes
There are no approved quotes yet for this movie.