When the Lights Went Out
(2012)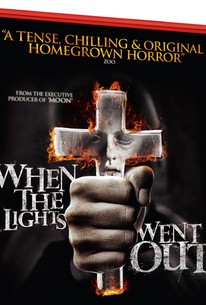 When the Lights Went Out Videos
When the Lights Went Out Photos
Movie Info
Prepare yourself for the ultimate horror experience. As you watch this film there is one inescapable fact that cannot be denied, one fact that will make your blood run cold, one fact that will leave you gasping for breath and unable to turn out the lights...everything you are about to see..really happened. Yorkshire, 1974, the Maynard family moves into their dream house. It's a dream that quickly descends into a panic stricken nightmare as the family discovers a horrifying truth, a truth that will make the historybooks. The house is already occupied by the most violent poltergeist ever documented, a poltergeist that will tear you from your bed as you sleep anddrag you helplessly into the darkness. As the attacks on the family become increasingly violent and terrifying it becomes clear that the exorcism of the poltergeist will be their only chance for survival. Two separate exorcism are attempted...the consequences of which..are disastrous. When The Lights Went Out is based on true events that occurred at No. 30, East Drive on the Chesterfield Estate, Pontefract, WestYorkshire. The subject of a plethora of research group studies, books and newspaper reports, this is the horrifying story of what really happened. Embrace the truth and experience unrivalled terror.
Critic Reviews for When the Lights Went Out
Audience Reviews for When the Lights Went Out
½
La verdad es que es genérica una más del grupo de películas de fantasmas que pretende espantar pero termina siendo una historia anecdótica, luego el personaje del padre ambicioso da a entender que igual y la historia fue ficticia.
Josías Gutierrez
I think the scariest moment in the film, and boy, were there many - was when the 'malevolent spirit' started playing with the slinky - I mean, really, how did William Friedkin miss out on that one back in 1973? His loss.
Bloodmarsh Krackoon
When the Lights Went Out Quotes
There are no approved quotes yet for this movie.
Discussion Forum
Discuss When the Lights Went Out on our Movie forum!