When Time Ran Out
(1980)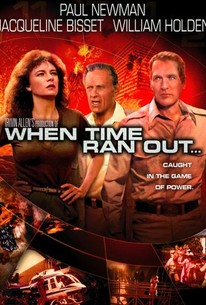 Movie Info
After producer Irwin Allen highlighted the dangers of fire in the Towering Inferno and the dangers of water in the Poseidon Adventure, he is back to fire again but this time it is within the earth, at least for awhile. This fairly routine disaster film is set on a resort island with a volcano that is beginning to rumble. Stars include a long list of names: Paul Newman is Hank, the savvy oil driller who gets people to safety even against their will, Jacqueline Bisset is the woman he is interested in, William Holden, Eddie Albert, Barbara Carrera, Veronica Hamel and several others play individuals trapped on the island. Hank convinces some people to follow him to the highest part of the island as the volcano gets set to blow its top. They encounter several dangerous situations after the dormant volcano wakes up but nothing quite like the non-stop, action filled, death-defying scenes from the explosion of volcano movies that hit the screens in 1997: Dante's Peak, Volcano, Eruption, Volcano: Fire in the Mountain, and a few more from around the world. They formed a virtual 1997 "ring of fire."
Rating:
PG (adult situations/language)
Genre:
Directed By:
Written By:
In Theaters:
On DVD:
Runtime:
Studio:
Warner Home Video
Critic Reviews for When Time Ran Out
Audience Reviews for When Time Ran Out
Always arrive before you're expected On a Pacific Island a volcano mysteriously becomes active during an oil dig. A resort full of people attending a conference is threatened because the ash in the sky prevents aircrafts from leaving the island. Can the people get off the island before they are covered in liquid hot magma? "I think they aught to chase all of you around with butterfly nets." James Goldstone, director of The Sun also Rises, The Bride in Black, Calamity Jane, Red Sky at Morning, Rollercoaster, Brother John, and Jigsaw, delivers When Time Ran Out. The storyline for this picture is classic disaster film with little special effects or sequences worth getting excited about. The cast delivers mediocre performances and includes Paul Newman, William Holden, Burgess Meredith, and Ernest Borgnine. "We've got to get the hell out of here and right now." I DVR'd this picture because it starred the magnificent Paul Newman. I can tell you this is one of the worst pictures of his that I have ever seen. This movie has little going for it other than some witty Newman lines. I recommend skipping this picture, even if you are a diehard fan of Mr. Newman. "It'll be okay if you don't panic." Grade: C-
Kevin Robbins
Dumb unbelievable disaster movie from the end of that cycle that inexplicably stars some of the biggest stars of the 70's. Everybody seems pretty disengaged and it's sad to see William Holden once so vital and charismatic a burnt out shell, alcoholic and rather haunted. The special effects are laughably bad and the whole thing moves at a snail's pace.
When Time Ran Out Quotes
There are no approved quotes yet for this movie.
Discussion Forum
Discuss When Time Ran Out on our Movie forum!