When We Were Kings
(1996)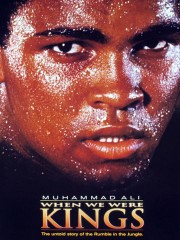 Tickets & Showtimes
When We Were Kings Trailers & Photos
Movie Info
The landmark internationally televised 1974 bout between Muhammad Ali and George Foreman provides the framework for this fascinating documentary culled from over 250 hours of archival film shot before and during the fight. The contest took place in Zaire and marked the emergence of Don King as the world's greatest fight promoter. Much of the story centers on the charismatic, flamboyant Ali who at 32 was at his prime. He is seen training for the fight with a very young, and even then impressive Larry Holmes, flying out to the fight and mingling with his many fans. Meanwhile Foreman is portrayed as introverted, sullen, and a generally unpleasant person; a person totally different from the gentle and funny man he would become. The film includes interviews with Norman Mailer and George Plimpton as they reflect upon the event. African-American filmmaker Spike Lee also appears to explain the history and importance of Muhammad Ali to younger viewers. Also included in the story are clips from the African and American music festival that preceded the fight. Musical performers included B.B. King, the Pointer Sisters, Miriam Makeba, and the Spinners.
more
Cast
News & Interviews for When We Were Kings
Critic Reviews for When We Were Kings
Audience Reviews for When We Were Kings
Highly entertaining documentary about the classic box fight between Ali and Foreman in Zaire 1974. Including interviews with witnesses and experts, this film covers the preparation, training, the concerts, background and meaning of the event for black people all around the world. It also showcases what a unique sportsman and entertainer Ali was at the height of his career. His charisma makes this film.
"Muhammad Ali, he was like a sleeping elephant. You can do whatever you want around a sleeping elephant; whatever you want. But when he wakes up, he tramples everything."

A documentary of the 1974 heavyweight championship bout in Zaire between champion George Foreman and underdog challenger Muhammad Ali.

REVIEW
The story of Muhammed Ali and the famous "Rumble in the Jungle" is the stuff of legend; the world's best boxer becomes a hate figure for middle America and is banned for political reasons; he returns but has lost his edge; he gets a last shot at the world title in a fight to be held in Zaire, whose kleptomaniac dictator is willing to put up his people's cash to pay for it; and against all the odds, he astonishingly beats the superior puncher George Foreman through a combination of wit and bravery. Ali was beautiful and clever as well as violent; his "art" destroyed him, but it's easy to tell his story as a kind of noble myth. Which is exactly what 'When We Were Kings', a documentary that relies relatively little on talking heads (because the whole drama was a kind of performance, and filmed) does. The film even gets its soundtrack for free thanks to the musicians brought in to publicise the fight. When We Were Kings shows a historic fight and the surroundings around it and you can't help but be thankful that such an important event was captured in such a great form.
Lorenzo von Matterhorn
Super Reviewer
Discussion Forum
Discuss When We Were Kings on our Movie forum!
News & Features