When We Were Kings
(1996)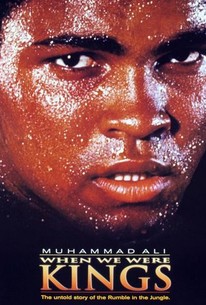 When We Were Kings Photos
Movie Info
On October 30, 1974, perhaps the most famous heavyweight championship boxing match of all time took place in Kinshasa, Zaire: the "Rumble in the Jungle" between champion George Foreman and challenger Muhammad Ali. In historical footage and new interviews, this documentary explores the relationship between African-Americans and the African continent during the Black Power era in terms of both popular culture and international politics, including the brutality of then-dictator Mobutu Sese Seko.
News & Interviews for When We Were Kings
Critic Reviews for When We Were Kings
Audience Reviews for When We Were Kings
Muhammad Ali was much more than a boxer, or showman, loudmouth, trash talker, or attention seeker; he was a spokesman for the black race and their social struggles, he embodied the will, anger and hope of that generation. The title itself says it all. Ali fighting Foreman was a David and Goliath kind of duel, they were like titans, god among men, two exemplary black athletes in an epic battle that shows the change of consciousness for their people in that particular time. Incredibly insightful and illuminating comments by people like Norman Mailer and George Plimpton.
Pierluigi Puccini
Super Reviewer
Highly entertaining documentary about the classic box fight between Ali and Foreman in Zaire 1974. Including interviews with witnesses and experts, this film covers the preparation, training, the concerts, background and meaning of the event for black people all around the world. It also showcases what a unique sportsman and entertainer Ali was at the height of his career. His charisma makes this film.
"Muhammad Ali, he was like a sleeping elephant. You can do whatever you want around a sleeping elephant; whatever you want. But when he wakes up, he tramples everything." A documentary of the 1974 heavyweight championship bout in Zaire between champion George Foreman and underdog challenger Muhammad Ali.
REVIEW
The story of Muhammed Ali and the famous "Rumble in the Jungle" is the stuff of legend; the world's best boxer becomes a hate figure for middle America and is banned for political reasons; he returns but has lost his edge; he gets a last shot at the world title in a fight to be held in Zaire, whose kleptomaniac dictator is willing to put up his people's cash to pay for it; and against all the odds, he astonishingly beats the superior puncher George Foreman through a combination of wit and bravery. Ali was beautiful and clever as well as violent; his "art" destroyed him, but it's easy to tell his story as a kind of noble myth. Which is exactly what 'When We Were Kings', a documentary that relies relatively little on talking heads (because the whole drama was a kind of performance, and filmed) does. The film even gets its soundtrack for free thanks to the musicians brought in to publicise the fight. When We Were Kings shows a historic fight and the surroundings around it and you can't help but be thankful that such an important event was captured in such a great form.
Lorenzo von Matterhorn
Super Reviewer
When We Were Kings Quotes
There are no approved quotes yet for this movie.
Discussion Forum
Discuss When We Were Kings on our Movie forum!