Where the Green Ants Dream (Wo die Grünen Ameisen Träumen)
(1985)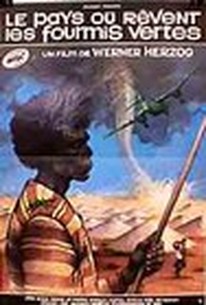 Where the Green Ants Dream (Wo die Grünen Ameisen Träumen) Videos
Where the Green Ants Dream (Wo die Grünen Ameisen Träumen) Photos
Movie Info
In a slightly padded but well-acted and relevant drama, an Australian mining company and a group of aboriginals go to court to settle a dispute over sacred land that the company wants to mine. When the Ayers Mining Company sets out to begin construction of its mine with bulldozers and earth-movers, the Aboriginals physically block the work because the site is exactly where the green ants will gather to dream (a 40,000-year-old legend) and it cannot be disturbed. The company tries the usual means of getting their way -- through bribes and arguments -- but nothing budges the men who came to defend the land. Once in court, it is quickly apparent that tribal laws and customs and beliefs are very different than Western laws -- and how the issue will be resolved is sticky indeed. ~ Eleanor Mannikka, Rovi
Rating:
R
Genre:
,
Directed By:
Written By:
In Theaters:
On DVD:
Runtime:
Studio:
Orion Classics
Critic Reviews for Where the Green Ants Dream (Wo die Grünen Ameisen Träumen)
Audience Reviews for Where the Green Ants Dream (Wo die Grünen Ameisen Träumen)
½
The worst film I've seen from Herzog yet still a moving work. The problem with this film is the problem Herzog himself has with it - it's too overtly political in certain areas. We have long speeches about the plight of the Aborigine where we could have used pure images to make a statement. He compromised, learned from his mistakes and moved on. Nevertheless, few in the history of cinema have provided more compelling images than Herzog: Aborigines almost get buried by a bulldozer, congregate in a supermarket where a sacred tree once stood, fly off with a plane, etc. Even when the master is off, he makes outstanding contributions to cinema.
Brian Valentine
Alarmingly mainstream for Herzog. One can imagine Paul Newman in the Bruce Spence role, or maybe Jeff Goldblum. It's got some of Herzog's usual fascinations (ethnography, nature, airplanes) but you might not guess it was one of his movies if you didn't know beforehand. Not that there's anything wrong with a director trying to break out of his style, but it's jarring (and somewhat disappointing) to see him tackle such a conventional "message" movie. Kind of ho-hum but it has moments.
Martin Teller
½
As most of my friends know, I am a really big fan of Werner Herzog and his films. Where the Green Ants Dream was Werner's last non- documentary until the release of Invincible almost 16 years after this film. Werner Herzog creates interesting films that may or may not always make sense in the conventional way, but at the same time, they draw you in and move you in their strange ways. Where the Green Ants Dream is a more conventional film, though still complete with its Herzog-ian strangeness fully intact. Telling its story in the outback of Australia, the film covers the story of a construction/ mining company wanting to take advantage of some Aboriginal land. The natives though, are trying to protect their land as best as they can, as it is their sacred land. What follows is a clash of cultures, values, and ideals as the two groups interact. The beauty lies in the open way the film is presented. It has intended messages, of that there is no doubt, like the way the civilized world is destroying the natural beauty of the world, and erasing any form of cultural individuality. But it is also about spiritualism, religion, blind faith, and the role of the mystical in our world. Our main character Lance Hacket, a geologist for the company, interacts with the Aborigines and learns that the land he is in charge of investigating is sacred ground (see the title) which is apparently home to green ants that are dreaming. The ants also apparently have the ability to destroy the world if disturbed. Lance sees the beauty in the beliefs of the people, and the respect they have for what little they have left. By the end he moves out into a metal house in the middle of the outback, disgusted by the materialistic world, and the path of destruction left in its wake. Beautifully shot, wonderfully quirky, and completely engrossing, Where the Green Ants Dream stands as one of Herzog's best films. It may not be the most accessible film (those looking for something a little easier to get into should try Grizzly Man or Rescue Dawn), but it is worth every minute!
Ross Malo
Where the Green Ants Dream (Wo die Grünen Ameisen Träumen) Quotes
There are no approved quotes yet for this movie.