Which Way Is the Front Line from Here? The Life and Times of Tim Hetherington
(2013)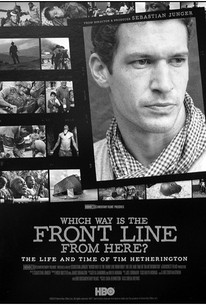 Which Way Is the Front Line from Here? The Life and Times of Tim Hetherington Photos
Movie Info
On April 20, 2011, shortly after the release of his documentary RESTREPO - and only six weeks after attending the Oscar ceremony as a nominee - photographer and filmmaker Tim Hetherington was killed by mortar fire in the city of Misrata, Libya, where he'd been covering the civil war. He bled out in the back of a pick-up truck while being raced to the hospital, comforted by a Spanish photojournalist who was holding his hand and trying to keep him awake. Those moments ended a brilliant ten-year career in which Hetherington not only covered such dramatic frontline stories as Liberia and Afghanistan, but also transcended the conventional boundaries of image-making to become one of the most important journalists of his generation. (c) Official FB
Critic Reviews for Which Way Is the Front Line from Here? The Life and Times of Tim Hetherington
Audience Reviews for Which Way Is the Front Line from Here? The Life and Times of Tim Hetherington
"Which Way is the Front Line from Here?" is a heartbreaking documentary about the life and work of photojournalist Tim Hetherington who was killed covering the recent civil war in Libya. His story is told not only by those who knew him, but mostly in his own words and pictures. The film's highlights come from Hetherington's covering of the fighting in Liberia which not only establishes the pattern of his work but also shines a light on a human rights tragedy. By comparison, the material concerning the documentary "Restrepo" he made with Sebastian Junger(who also directs "Which Way is the Front Line from Here?") lacks the same impact, mostly due to its familiarity and because some of it feels like basic behind the scenes footage on the surface. To his credit, Junger also uses that as a springboard to explore more general themes of the unpredictability of war and camaraderie which is expressed perfectly in an unforgettable quote about soldiers having to watch their friends die. Another way of looking at it is that none of us wants to be alone while there is always the danger of peer pressure.
Which Way Is the Front Line from Here? The Life and Times of Tim Hetherington Quotes
There are no approved quotes yet for this movie.