Whispers in the Dark
(1992)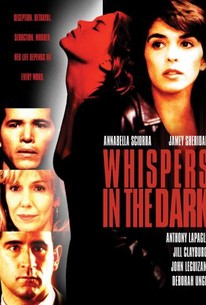 Whispers in the Dark Videos
Whispers in the Dark Photos
Movie Info
In this thriller, the death of one of psychiatrist Anne Hecker's (Anabella Sciorra) troubled patients upsets her, until she discovers that the client, Eve Abergray (Deborah Unger), has been murdered. With the knowledge of Eve's past, Anne finds herself becoming tangled up in the investigation and the search for Eve's killer.
Rating:
R
Genre:
,
Directed By:
Written By:
In Theaters:
On DVD:
Runtime:
Studio:
Paramount Home Video
Critic Reviews for Whispers in the Dark
Audience Reviews for Whispers in the Dark
I think "Whispers in the Dark" would like to think of itself as a sexy counterpart to "Basic Instinct", but the two films actually have very little in common. In fact, if anything, this film plays more like a late night Cinemax After Dark feature with a decent cast and better production values. The "erotic" dialoge comes off as funny rather than sexy, and the story is seriously muddled. It's hard to take any of this seriously, and the plot is filled with cliches and great stretches of credibility. The plot twist at the end is surprising, but mostly because it's so farfetched and implausible that is virtually impossible to see coming. I would have liked to have been at the screenwriters meeting when the straws were drawn to determine who the killer would be. It feels that random. The film is also horribly miscast, whether it be Jill Clayburgh fatally underused in her small part or a ridiculous performance by Alan Alda that inspires more laughs than the crappy writing. But the worst offender of all is star Annabella Sciorra in the lead role. She's not a bad actress, as she proved in last year's terrific "Jungle Fever", but she's all wrong for this part. She's not tough enough to pull this off, and it's also kind of silly that the film has her psychiatrist character running to HER psychiatrist after every session. A Linda Fiorentino might have pulled this off, but the character is still underwritten and unfocused. It makes a valiant effort, but "Whispers in the Dark" doesn't quite succeed as a new camp classic. As it stands now, it's just ridiculous.
Timothy Sanders
½
Very interesting film. I used to watch it all the time when I was younger but now that I'm looking at it I realize a young kid shouldn't have been watching a movie like this. It was almost like a Soap Opera though. That's probably why I liked it when I was younger cause I used to always watch Soap Operas. Now that I think of it it kind of reminds me of a Lifetime Movie.lol.
kalandra .
I loved how cheesy and bad this movie is. The script is basically on par with something like Basic Instinct, there is intrigue, murder, sex, and a whole lot of out-of-left-field plot twists. The problem with this one is that it's not nearly exaggerated enough. Basic Instinct has incredible cinematography and all the performances are really over the top, which makes that movie a blast to watch. Here, everything is played relatively straight, although John Leguizamo tries his best to add some camp-factor. The only one who really comes out well is Alan Alda, but that's because he can't be bad ever. It's worth it just to see the big reveal in the end, and there's boobies in it, so one star for Alan Alda, a half for boobies, and another half for amazingly ridiculous big end reveal.
Matt Kendrick
Whispers in the Dark Quotes
There are no approved quotes yet for this movie.