White Air
(2006)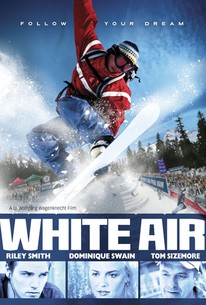 AUDIENCE SCORE
Critic Consensus: No consensus yet.
Movie Info
A once-promising snowboarder who suffered a crippling career setback takes one last shot of living his dream in an inspirational tale of adversity and determination starring Dominique Swain, Tom Sizemore, and Paul Logan. There once was a time when Alex Crow (Riley Smith) was set to become the next big thing in snowboarding. When family issues, a falling-out with his girlfriend Christie (Swain), and a series of disheartening losses to his nemesis Jason (Brent le Macks) take the air out of Alex's launch, he sets his snowboard aside in favor of supporting his family with a job at the local garage. Now more concerned with financial stability than following his dreams, Alex seems to have lost all faith in both himself and his abilities. Alex's close friend and trainer Peter (Logan) isn't about to sit idly by as his best friend's dreams die though, and with a little encouragement and plenty of hard work Alex soon realizes that he may have what it takes to win the upcoming pro-jam super pipe event after all.
Critic Reviews for White Air
There are no critic reviews yet for White Air. Keep checking Rotten Tomatoes for updates!
Audience Reviews for White Air
Seldom have I seen a worse movie, I mean seriously, this was supposed to be a high-energy sports drama, instead it felt like watching a long music video. The soundtrack was bad ass, Riley Smith was pretty good, and he's always nice to look at, but besides that, this film was poorly written, badly directed, and the acting was nauseating. To say it was a piece of shit, would be an insult to shit!
Todd Smith
Super Reviewer
This movie has a good soundtrack, some good looking girls, and a decent personal struggle going on... But in the end it just is no different and even less than most sport dramas we've seen. A extreme snowboard amature is struggling with his confidence and his personal relationships around him, he tries to patch back up his life in time to get composure before the final tournament in L.A and if he can make the cut and win the big one - he will finally have made the pros. Can you guess what happens? Sure you can. It's the same as every other movie like this. He get's the girl, get's the contract, fixes his relationship, and it ends on a great note. It suffers a bit from bad acting, there is a weak plot, and the scenes themselves are weak most of the time as well. There are some cool snowboarding shots, but that's about where it ends. Overall: It's fun, but, even without seeing it - you've already seen it.
Bobby Hobbs
Super Reviewer
White Air Quotes
There are no approved quotes yet for this movie.
Discussion Forum
Discuss White Air on our Movie forum!