White Lightning
(1973)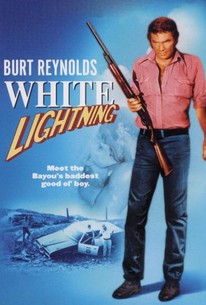 Movie Info
When the police pick up Gator McKlusky (Burt Reynolds) for running moonshine, they agree to let him out of jail if he will help them capture the key figures in his moonshine operation. Since the suspected ring leader is the man who killed Gator's little brother, he agrees to help out the cops to get himself out of prison and get his revenge. ~ Iotis Erlewine, Rovi
Critic Reviews for White Lightning
Audience Reviews for White Lightning
White Lightning may not have aged well in the past 40 odd years, but in some ways, that's part of the charm. The start of the Burt Reynolds' "Hick Flick" run, and it has to be noted for that.
½
Both a hoot and a holler!
Ken Stachnik
Super Reviewer
White Lightning is a terrific action/drama that tells the story of a hard-driving moonshiner named Gator McKlusky (Burt Reynolds) who is released from prison early in exchange for any help he can give the government with its case against his fellow moonshiners. Gator, however, has his own agenda and it has nothing to do with his altruistic nature. It seems that Sheriff J.C. Connors (Ned Beatty) of Bogen County is not only one of the biggest moonshiners in Arkansas, he's also responsible for killing Gator's brother. And Gator wants revenge. One of the coolest things about White Lightning is that it presents Burt Reynolds as an actor at the top of his game. This was a Burt Reynolds who seemed to actually care about the final product and not just yucking it up with his buddies on screen. White Lightning was made before Burt became a clown, mugging for the camera. That's not to say there isn't any humor in White Lightning ? it's just used judiciously. Burt is joined by phenomenal cast. In addition to Ned Beatty (who's perfect as the Sheriff), R.G. Armstrong, Bo Hopkins, Diane Lane, and Dabbs Greer give solid, memorable performances. In fact, I can't think of a single actor that bothered me. The movie was helped tremendously by the decision to film in rural Arkansas. I lived in the South all my life and everything from the locations to the sweat dripping off Burt's chin had a feeling of authenticity. It all felt real to me. Finally, the plot is just terrific, mixing in just the right amount of high speed car chases, brutal looking fight scenes, and dramatic conversations. It drew me in right from the start and held my attention throughout. Overall, it's a well-made, entertaining movie.
David Ladd
Super Reviewer
White Lightning Quotes
There are no approved quotes yet for this movie.
Discussion Forum
Discuss White Lightning on our Movie forum!