The White Sister
(1923)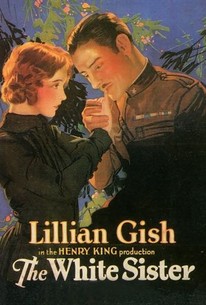 AUDIENCE SCORE
Critic Consensus: No consensus yet.
Movie Info
Lillian Gish plays the girl whose travails begin when her father dies and her conniving sister cheats her out of her inheritance. Gish is deeply in love with handsome army officer Ronald Colman, but when war erupts, he is sent to the front. Soon after he is listed among the dead. In her despair, Gish turns to God and enters a convent. The scene in which she assumes the veil and takes her final vows is particularly moving and was supervised by the chief ceremonial director for the Vatican so it is also accurate. Soon after the ceremony, Colman who didn't really die, shows up and begs her to leave the Church for him. When that fails, he tries to trick her into petitioning the Pope, but again she stands firm. Just as she says no, Mount Vesuvius erupts and the soldier saves his beloved from certain death. Her sister doesn't fare as well. Still, before she dies, she begs for Gish's and God's forgiveness. Colman heroically races toward town to warn them, but dies before he arrives. Gish is sad, but continues to live her life for God.
Critic Reviews for The White Sister
There are no critic reviews yet for The White Sister. Keep checking Rotten Tomatoes for updates!
Audience Reviews for The White Sister
½
The White Sister (1933) I saw "The White Sister" which is the talky remake of this silent movie. In this version Helen Hayes plays Angela Chiaromonte and handsome Clark Gable plays the love interest, Giovanni Severi. The story is pretty much the same, with the poor Italian princess being promised to a rich banker but falls for a dashing young aviator instead. Captain Severi goes off to war and is shot down behind enemy lines and missing in action. Thinking Giovanni is dead, the distraught Angela becomes a nun. Then Giovanni is able to make it back home, only to find that Angela is now married to God.
Rick Rudge
½
I'm a bit surprised how few reviews there are for this film, because after viewing quite a few Lillian Gish films - this might just be my favorite. The story is epic, and the film is lavish - the scenery, costumes, story, cinematography, effects, and even the melodramatic acting & gesticulation are quite beautiful & intense. The story is one of betrayal, love, faith and commitment - and although its values will seem dated to a modern audience, I found it to have a timeless aspect. Funny enough, if this film had dialog I would probably hate it - it would be too over the top and dramatically annoying . . . but the beautiful cinematography, images and score work together to capture the scale of epic emotion. I viewed this on TCM, and the score listed was apparently commissioned by them - but the film is worth watching just to listen to the score.
J. Scott Fugate
Lillian Gish delivers what may now be my favorite reaction shot in a silent film ever - when she hears news of the possible fate of her beloved (Ronald Coleman) - her gesticulations has got to be the epitome of the emoting style of the silent film era. Boy...this film sure has it all: gorgeous Italian villas, harsh Sahara desert, evil step sisters, catholicism, bratty kids, soldiers, fox hunts, not to mention a volcano comes into play eventually..phew! Beautifully photographed on location in Italy. Yes, the story is a bit soapish and at times dramatically overblown - but hey, it's the silent era -when you most expect stuff like this to happen. It's certainly worth a watch.
bernard anselmo
The White Sister Quotes
There are no approved quotes yet for this movie.
Discussion Forum
Discuss The White Sister on our Movie forum!