White Vengeance
(2011)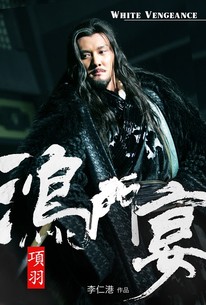 AUDIENCE SCORE
Critic Consensus: No consensus yet.
Critic Reviews for White Vengeance
There are no critic reviews yet for White Vengeance. Keep checking Rotten Tomatoes for updates!
Audience Reviews for White Vengeance
½
Two rebellious generals unite to overthrow the emperor but a rift opens between them when deciding who should rule in his stead. Like Red Cliff, White Vengeance is a Chinese historical epic based around the battle of wits between two competing armies and their tacticians. While John Woo's film centred around the characters and their motivations, this film instead chooses ham-fisted gaming analogies to the point where the big centrepiece of the film is actually a game of speed chess set to dramatic music and swirling wobbly-cam to make it look dramatic and exciting to any viewer with the attention span of an invertebrate. That's not to say that White Vengeance is without merit; the visuals are full of the requisite high quality costume design, epically scaled battles and well orchestrated sword play. Unfortunately what punctuates it is just a lot of clumsy exposition barked between the lead characters alongside cod philosophy and confusing plotting that makes it difficult to follow who is on whose side and why for the majority of the time. Even the romance with the politely pretty and demure heroine seems like a half-hearted afterthought. There is an interesting message about how power corrupts at the very end but it's too little too late to salvage the messy, unconvincing plot leaving the whole thing with the feel of a box-ticking "state sanctioned" movie which is inferior in every way to Red Cliff.
Daniel Lee's White Vengeance is a game of wits more than it is a battle to be emperor.
The story is lengthy coming in at well past 2 hours; however, the film makes the most of it with much emphasis on character and plot details. There is noticeably a good amount of drama, but the pacing never seems to come to a crawl.
The action never gets too elaborate and there is some small usage of CG which is nothing to brag about. There are a few segments which can be considered stylized, but all in all placing this film as action first isn't appropriate.
Leon Lai and Shaofeng Feng go back and forth throughout the film, but Hanyu Zhang and Anthony Wong are the ones pulling the strings. Watching Zhang and Wong play a game of weiqi at the banquet is a definite highlight.
White Vengeance does have its share of enticing moments that offset some of its drama and long run time. In return, this is a watchable piece out of China.
½
[img]http://twitchfilm.com/news/WhiteVengeancePoster.jpg[/img] I love historical movies... and when I had a chance to see White Vengeance, also known as Hong Men Yan, I took my chance without hesitation. Director Daniel Lee made interesting male-dominated film with a female (Yuji) as a key character. The story is based on events in the Chu-Han Contention period of Chinese history and the Chinese title is a reference to the banquet of Hongmen, a well-known event in 206 B.C. where warring general Xiang Yu was motivated to assassinate Liu Bang, his rival. There is lots of star potential in this movie with Leon Lai, Feng Shaofeng, Liu Yifei, Zhang Hanyu, Anthony Wong, Jordan Chan, Andy On, Xiu Qing and Jia Qing, and they did the best they could with a director who lacked 'mojo'... yes... exactly that! Nice shots, a little bit complicated story for most Westerners not familiar with the Chinese history, screenplay with nice twists, good acting but everything was let down by a directing which was just without passion - I'll call it almost impotent! Mechanical, with no real feel for the rhythm of the story Daniel Lee made just an average movie which missed an opportunity to become great!
White Vengeance Quotes
There are no approved quotes yet for this movie.
Discussion Forum
Discuss White Vengeance on our Movie forum!