White Witch Doctor
(1953)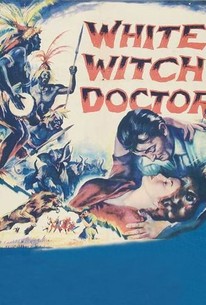 AUDIENCE SCORE
Critic Consensus: No consensus yet.
White Witch Doctor Photos
Movie Info
A turn-of-the-century nurse heads deep into the Belgian Congo to spread Christianity and the benefits of modern medicine amongst the fearsome Bakubas. She is taken there by a pair of shady guides who are more interested in finding the region's legendary gold mines than her safety.
Rating:
NR
Genre:
Directed By:
Written By:
In Theaters:
Runtime:
Studio:
20th Century Fox Film Corporation
Critic Reviews for White Witch Doctor
All Critics (1) | Fresh (0) | Rotten (1)
Robert Mitchum sleepwalks through the jungle, having less charisma than the gorilla.

Ozus' World Movie Reviews
Audience Reviews for White Witch Doctor
Static, wooden adventure that is obviously filmed on soundstages with a cast that is far better than the blah script deserves.
Great title, eh? I thought so too, especially since I was confronted with the lurid poster art every time I had to go to the bathroom when I was at the Music Box Theatre here in Chicago. Which is often, because I drink lots of soda. Add to the incredible poster the presence of Robert Mitchum (the coolest actor in film history) and Susan Hayward and you've got a movie that DEMANDED to be seen. Except that it couldn't be seen. It's never been on video, and despite their trumpeting its' existence with the poster in the loo, the Music Box has never been nice enough to show it. All that changed last week when I happened to come across it on the Fox Movie Channel. Ahhh, the joy of cable. Of course, it's not nearly the exploitation flick that it would seem. It's actually a major studio production with two big stars and a hot director (Henry Hathaway, who'd just finished NIAGARA) that's more of a low-rent AFRICAN QUEEN take than a big-budget take on MOGAMBO. Mitchum plays Lonni Douglas, an African guide hired to take doctor Susan Hayward to a tribe deep in the Congo where she'll work as a missionary and assistant to a doctor there. The two quarrel, with Douglas questioning the doc's motives, but you know the'll end up making out by the end of the flick. In place of AFRICAN QUEEN's torrential weather, WHITE WITCH DOCTOR substitutes natives that aren't too sure about this new doctor, especially a witch doctor who places a curse on her after she saves a woman he had dignosed as demon-possessed. In addition, Douglas has an ulterior motive for the trip--reach a hidden, violent tribe and search the area for a rumored gold mine. It's pretty typical stuff, and while the leads are good, the chemistry just isn't quite there. The romantic dialogue is more absurd than dashing, and the fact that the movie begins with a guy in an obvious gorilla suit doesn't help matters. Still, there's a fair share of interest to be had. The two leads are great to watch even when forced to unconvincingly interact with each other, and the look of the film is good enough to almost convince you that it was shot in Africa. Not bad, not great, but a perfectly decent way to kill an afternoon. And it's good to finally see it, even if it could never live up to my wild-eyed imagination from seeing the poster. (Side note: Has anyone seen Hathaway's final film, SUPER DUDE? There's a trailer on a Something Weird comp, but I've never seen any evidence of the film itself.)
Paul Freitag
White Witch Doctor Quotes
There are no approved quotes yet for this movie.