Who Killed Johnny
(2013)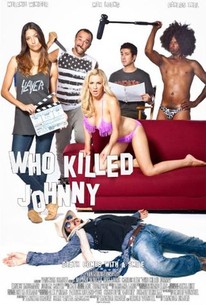 AUDIENCE SCORE
Critic Consensus: No consensus yet.
Movie Info
Rating:
NR
Genre:
Directed By:
Written By:
Runtime:
Critic Reviews for Who Killed Johnny
There are no critic reviews yet for Who Killed Johnny. Keep checking Rotten Tomatoes for updates!
Audience Reviews for Who Killed Johnny
Movies about the creative process set in Hollywood is not a new genre but is one that when done correctly can be brilliant. But it is not always met with crucial acclaim. Another recent film about a screenwriter with writers block, Seven Psychopaths was much better as well as others that dissect Hollywood and its conventions with films like Get Shorty or State and Main. But this was paint by numbers affair that didn't really offer anything outside the norm, much like the current state of Hollywood itself. I was willing to give it a chance when I watched it, but then as time went on the story just bored me. It just felt so disengaging and never really grabbed me. It's about two screenwriters trying to think of ideas for a script, hashing out endless ideas. But things turn around when they see a dead body in the road who impersonates Johnny Depp. I don't know if it's me, but I couldn't really buy into the movie that uses a dead body for strange purposes. None of it felt real and is something I could never really take seriously. So in that context, it was basically doomed from the start. It never knew what it wanted to be and jumped too often from scene to scene. I'm not sure if imp supposed to be watching a comedy, drama, mixture of the two or some sort of new genre. It wavered too much, ruining any consistency for a narrative flow. There weren't really any particularly funny moments to be had, intentional or unintentional. And felt too long even at an 80 minute running time. None of the characters were interesting or offered anything that would set them apart from the cliché ridden tomb they've set themselves in. I didn't particularly care for Max and felt he was an insensitive jerk with no creativity at all. Melanie was no better as his writing partner, as you're wondering why she would be with such an ass in the first place. Their friends were also something out of a shoddily written TV sitcom. Jambo is the wacky black guy who wears an afro wig and has a ditzy, blonde, big breasted girlfriend named Gudrun. The way they focus on her breasts is so forced, you'd think you were watching a laugh track ridden cheesy TV show. Nothing about these characters really changes by the end and they are all basically the same by the time the credits thankfully roll. At many times in the movie, Max is so intolerably annoying that you wish you could shut him up. Then you wonder how a guy like that can afford a nice house with a pool in LA. What is even more puzzling are the character motivations. They see something happen, than they react so bizarrely that any regular person would do the opposite. It's hard to agree with their decisions or like the characters when they do something so stupid and illogical. It got to be so cold hearted, that you hope you don't meet these people ever in your life. How one could be so comfortable with a rotting corpse for so long is beyond me. Not to mention the smell it would cause. Hearing these people go on about their script was so tedious since none of them sounded enticing at all. I couldn't envision any writer, producer, actor, director or anyone in Hollywood using them as an idea. It just tried so hard to be wacky and funny. I thought of the Seinfeld episode, The Cheever Letters, where Jerry and George were stumped to think of a script for their sitcom. By the end of the episode the dialogue written is so intentionally stupid and banal, but paints the creative process for sitcoms and Hollywood perfectly. Here it felt forced and nothing sounded creative. The dialogue for the film in general was not much better. Nothing substantial was said that served any purpose to anything. An unfunny racist joke didn't serve any other purpose other than showing what a dumb ass Max is. It felt out of place and really bothered me, not that it was racist but that it just wasn't funny. It went into Weekend At Bernie's territory which could only make it that much dumber. Where that at least was an idiotic, guilty pleasure at best, this is nothing of the sort. The corpse used as a plot device in films is a tired device that should be avoided with extreme caution. It worked in Little Miss Sunshine but that furthered the plot, characters and script and is a brilliant film. It also worked for Clue but that is a cult classic that worked for the tone of the movie. Where it was used for stupid, pointless, wacky 80s fun in Bernie's, it just got really creepy here in some parts where you're wondering why a person would do that to a dead body. In even more cliché territory, Max not only knows a drug dealer who is a budding actor but also a cleaner since it's Hollywood and everyone knows a shady friend of a friend despite being from Switzerland. The use of the same song in parts got to be extremely aggravating and ruined the tone of the movie. You're not sure if it's meant to be happy or serious, but they're playing the same section of a song they have already played 20 times. It's hard to find anything positive from Who Killed Johnny but I could hardly see anything worthwhile. There is nothing that sets it apart from any other movies in the genre or offers anything memorable. The ending may be the best part, not because the credits finally rolled but there's some hopefully comeuppance for the two illogical, unsound main characters Max and Melanie. I'm not even sure you're supposed to care for them by the end since you are given no reason too. It became just as boring as their ideas for story and character they drowned on about. One rotting corpse used in a wacky comical way out of five,
Adlai Noonan
Discussion Forum
Discuss Who Killed Johnny on our Movie forum!