Who Killed Teddy Bear
(1965)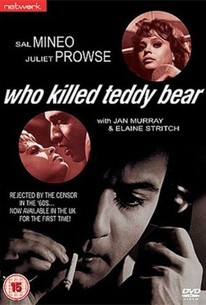 AUDIENCE SCORE
Critic Consensus: No consensus yet.
Movie Info
In this grim thriller, a disco hostess finds herself threatened by an obscene phone caller. The club stand-up comic is an undercover cop who gets interested in the case. He begins acting so strangely, that the hostess begins to suspect him of the crime. She later befriends the club busboy without realizing that he is not only the caller, he is also stalking her. The calls keep coming and the woman gets really scared. She moves in with the comic and his family. The owner of the club, a lesbian, visits the woman one night. The stalker mistakes her for the hostess and rapes and kills her. This is particularly devastating for the cop's wife, who had been raped once. Meanwhile the hostess remains unaware of her new friend's dangerous side and gives him a dance lesson at the club. He loses all control and attacks her after revealing his true identity. He then leaves the club. Fortunately, the police are hot on his tail. A shoot out ensues, and the psycho sex-killer is killed.
Rating:
NR
Genre:
Directed By:
Written By:
Runtime:
Studio:
Magna
Critic Reviews for Who Killed Teddy Bear
All Critics (2) | Fresh (2) | Rotten (0)

Ozus' World Movie Reviews
This 1960s New York story of violated innocence remains unsettling, with Mineo riveting as a proto-Travis Bickle.

Audience Reviews for Who Killed Teddy Bear
Interestingly shot and both Juliet Prowse and Elaine Stritch look great but its story is ugly.
★★★1/2 (out of four) A very bold movie for 1965 that has today become a cult classic. Like a lot of these social films they are dated, but to me that is part of what makes them often times great. If I watch a film made in 1965, I want it to reflect the time it was made, not today. "Who Killed Teddy Bear" was one of the first U.S. films to be at the head of the new, changing cinema values of the 1960's. The subject matter was difficult for mainstream audiences. Rape, incest, lesbianism, sexual addiction were just some of the topics touched on in the picture directed by Joseph Cates. A young waitress (Juliet Prowse) at a cool New York City disco is being stalked. She has been receiving threatening phone calls and is scared. The police, headed by Jan Murray, have little leads. The film argues that everyone has some kind of sexual perversion. Some people are just better at covering it up. Though not a hit at the time, it seems very influential. Martin Scorsese's "Taxi Driver" is very similar with its bleak view of a rotting New York and the freaks that roam the streets. Scorsese's version of "Cape Fear" has several shots that are familiar. I think even Quentin Tarantino borrowed heavily with his dance number between John Travolta and Uma Thurman in "Pulp Fiction." It is very reminiscent of the sexual tension between Juliet Prowse and Sal Mineo when she tries to teach him to dance. It does start out a bit rocky, but gathers steam as it goes. There are some great performances, especially from Sal Mineo and Elaine Stritch. The film is mostly lost today, but hopefully its cult status will help it come back to life on DVD and Blue-Ray soon. [IMG]http://img.photobucket.com/albums/v48/Zeppo1/WhoKilled-1.jpg[/IMG]
Steve Smith
Dated aesthetics, poor acting and arythmic direction. The bonus is that it deals with themes that were taboo for the time. Sal Mineo is very clearly a precursor of De Niro in Taxi Driver , his wanderings in the NYC red light district, infatuation with a stranger, and even his workout routine, all make me wonder if Scorsese, Paul Schrader or even Bernard Herrmann ever saw this mediocre but gutsy b-movie.
Pierluigi Puccini
Super Reviewer
Discussion Forum
Discuss Who Killed Teddy Bear on our Movie forum!