Who's That Girl?
(1987)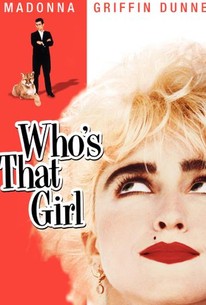 Movie Info
A year after appearing in the box-office sleeper Shanghai Surprise, pop superstar Madonna starred in the screwball comedy Who's That Girl? She plays Nikki Finn, who is being released from prison after serving a four-year sentence for a murder she didn't commit. Meanwhile, wealthy lawyer Loudon (Griffin Dunne) is about to get married that afternoon to the snobby Wendy (Haviland Morris), the daughter of Simon Worthington (John McMartin). Worthington does not approve of the wedding and he wants Nikki out of town as soon as possible, so he sends Loudon to collect Nikki and take her to the bus station. Instead, the flamboyant Nikki seeks her revenge while trying to find out what happened to her friend Johnny, which causes Loudon a lot of trouble. Naturally, wild action ensues -- some of it involving an escaped Cougar belonging to Loudon's boss, the millionaire animal collector Montgomery Bell (John Mills) -- and Loudon having to choose between the prim Wendy and the unpredictable Nikki.
People Who Like this movie also like
Critic Reviews for Who's That Girl?
Audience Reviews for Who's That Girl?
It is just a crappy movie. Don't watch it. I give the movie a half a star, and the two cougars their own half-star.
OK as a daytime family friendly movie. Nothing extraordinary about it. Madonna did a okay job. The story is about what you could expect out of it.
Martin Sahlin
Super Reviewer
This movie is fun but much too silly at times too. Madonna is okay, but an actress could have done a better job with this movie, I think. Anyway, this movie is a joy for any fan of hers. If you're not a big fan, it's just okay.
Who's That Girl? Quotes
There are no approved quotes yet for this movie.