Why we Fight
(2006)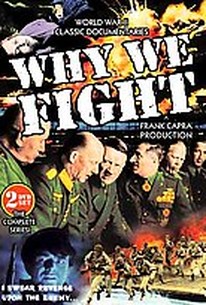 AUDIENCE SCORE
Critic Consensus: No consensus yet.
Critic Reviews for Why we Fight
There are no critic reviews yet for Why we Fight. Keep checking Rotten Tomatoes for updates!
Audience Reviews for Why we Fight
Frank Capra's Why We Fight, commissioned by the U.S. Army, is interesting as an example of war-propaganda, but as an ostensibly educational presentation of history it should be handled with tongs while with the protection of a haz-mat suit. The series contains a number of misrepresentations that Capra and the screenwriters certainly knew were misrepresentations. In other words it is a dishonest film. There are two alleged quotes attributed to Adolf Hitler which actually are highly distorted paraphrases of passages from Hermann Rauschning's The Voice of Destruction (which is itself not considered a credible source). There is also footage used in the section about the Rape of Nanking that is not what it is supposed to be. Capra took footage of Chinese Nationalist soldiers executing Communists and misrepresented it as an execution of Chinese civilians by Japanese soldiers. To make the misrepresentation convincing, Capra cropped each frame so that the uniforms of the soldiers were not visible, then spliced in a shot of an actor dressed as a Japanese officer barking an order. Correctly understood, what "Why We Fight" really documents is that we fight because we are told lies by our government and by Hollywood.
Hadding Scott
Why we Fight Quotes
There are no approved quotes yet for this movie.
Discussion Forum
Discuss Why we Fight on our Movie forum!