Wicked Lake
(2008)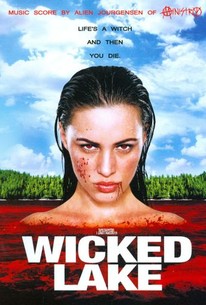 AUDIENCE SCORE
Critic Consensus: No consensus yet.
Movie Info
The stroke of midnight sets the stage for terror when four vacationing coeds turn the tables on a group of depraved backwoods miscreants. Art student Ilene (Robin Sydney) has a bizarre run-in with eccentric fellow student Caleb (Marc Senter) just before she and roommates Helen (Eryn Joslyn), Mary (Carlee Baker), and Jill (Eve Mauro) head out for a relaxing weekend at a lakeside mountain cabin. Later, as Caleb recalls the encounter to his older brothers, Palmer (Damian DeKay) and Fred (Justin Stone), and the family patriarch, Sir Jim (Frank Birney), the girls get ready to hit the road. On the way to the cabin, the girls stop by a roadside gas station and have a bit of fun with redneck proprietors Cyrus (Mike McKee), Runt (J.D. Brown), and Half Idiot (Luke Y. Thompson). A relaxing afternoon of skinny-dipping in the lake gets the weekend off to a good start, though things take a turn for the worse when Caleb, Palmer, Fred, and Sir Jim unexpectedly show up at the cabin looking for a raunchy good time. Just as things start to get ugly in the cabin, veteran detective Jake (Tim Thomerson) and his rookie partner, Ray (Michael Esparza), stumble into a ritualistic alter while investigating a bloody basement crime scene. Upon finding a newspaper clipping about a mysterious cabin, they race to the country to find another clue. But at this point the clock has just struck midnight, and things are just getting interesting out at the cabin. It seems that the girls have somehow managed to gain the upper hand against their attackers. Have Ilene and company accomplished this by simply outsmarting Sir Jim and the boys, or could it be that these outwardly timid coeds actually possess a deadly and diabolical secret?
Rating:
R
Genre:
Directed By:
Written By:
In Theaters:
On DVD:
Runtime:
Studio:
Critic Reviews for Wicked Lake
All Critics (3) | Top Critics (3) | Fresh (0) | Rotten (3) | DVD (1)
The flick is so vile and misogynistic -- the women exist solely to titillate -- that even perverts will have a tough time.

It's not the water that menaces in Wicked Lake, an inept, nasty and absolutely irredeemable entry in the stale torture-porn subgenre of horror.
New York Times
Top Critic
As tamely unerotic as a straight-to-video Misty Mundae softcore spoof... Wicked Lake proves that even Troma can outclass some.

Audience Reviews for Wicked Lake
Four young, well-endowed hotties rent a cabin in Hicksville, USA where they've been followed by a group of morons consisting of an ultra-feminine art student, a mentally challenged (?) pervert, a geriatric war veteran in a wheelchair, and their sadistic ringleader. Also hot on the girls' tails are a couple of greasy, dirty, toothless country bumpkins whose most impassioned lines are, "God damned city bitches!" Let me not forget to mention two detectives who are pursuing the damsels in distress. Only they're not damsels in distress. At the stroke of midnight, they transform into bloodthirsty demons - bloodthirsty lesbian demons. This is... one of the worst I have ever seen and I have watched some major stinkers. Unfortunately, not even all of the T&A could save Wicked Lake. The tone of the film is constantly changing and confusing for the viewer. Am I supposed to laugh? Is this character to be taken seriously? Much of the movie looks like it was shot with a camcorder, the dialog made my ears numb, and the acting is deplorable. I live for B-movie horror and low-budget amateur efforts so I've made it a habit to overlook sub-par acting but, in this case, it's so bad that it's unforgivable. Even worse, when they're not 'acting', they're zoning off, unresponsive to anything that's happening with the rest of the characters. It's a complete mess. I'm irritated that I wasted 95 minutes of my life on this cinematic piece of excrement.
MiYon Richardson
I hated the cover art to the DVD. What was supposed to be provocative is a badly photo-shopped mess. Shoulder deep in blood stained water, a nondescript actress with pouty lips tries her best to look evil. I suppose floating underneath a blue sky filled with white puffy clouds is supposed to contrast her rather ineffectual evil stare, but it just comes off as amateurish. What's intersting about what appears to be "red-eye" (and a sure sign of bad photography) was it's actually an intended effect, but it only reinforces how talentlessly this cover art was created. Blase' as the DVD cover is, it's still manages to be quite superior to the film itself.
john b
Half soft-core sex film, Wicked Lake sets itself up as a rape-revenge film akin to Last House on the Left, The Night Train Murders, I Spit On Your Grave, Thriller: A Cruel Picture, etc. But this low-budget cheese-fest that has a Troma feel to it proceeds one step further by bringing in a supernatural element. A group of four women who engage in lesbian four-play (pun intended) with one another go on a trip to a remote cabin where a family of local hicks overtakes them with an eye to rape and other nefarious deeds. Ultimately, Wicked Lake is a terrible looking, poorly acted, exploitative piece of trash. But it is also a highly enjoyable and brutal piece of exploitation cinema that will no doubt be enjoyed by fans of the genre.
Al Miller
Wicked Lake Quotes
There are no approved quotes yet for this movie.