The Wickeds
(2005)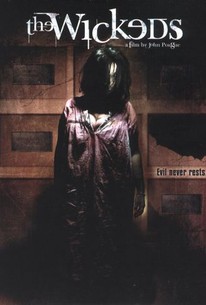 AUDIENCE SCORE
Critic Consensus: No consensus yet.
Movie Info
John Pogue's horror film The Wickeds features a group of thrill-seeking teenagers and a pair of grave robbers who are trapped together inside a haunted house. Complicating matters considerably is the fact that a group of zombies are attempting to attack them.
Critic Reviews for The Wickeds
There are no critic reviews yet for The Wickeds. Keep checking Rotten Tomatoes for updates!
Audience Reviews for The Wickeds
I was actually looking for a movie called The Wicked but came across this 1 & thought why not give it a try.Anytime I see a normal movie with Ron Jeremy in it, I won't watch it because every single normal movie I've watched with him in it has just straight up sucked so I have no idea what made me decide to give this movie a chance but I did.Anyways, I LOVE Horror flicks, I LOVE BAD movies & The Wickeds was both.I stuck it through, Made it to the end & I enjoyed the movie.It's nothing I'd watch again, rent or buy but if you LOVE Horror flicks & BAD movies like I do then give it a watch (Maybe it was SO BAD, it was good?)
Brody Manson
Super Reviewer
Campy Cheese fest. I think (it was) the first line says it all.. ?Cheesy Direct to video horror? (LMAO) & if THAT doesn?t say much, Ron Jeremy the porn guy is in it so that tells you its going to be a bad movie, maybe some bad or HORRID acting. The SUPER faiar girl you really can?t even see in the opening shot cause its pretty ?white washed? (or at least the shot is too bright) if she were any whiter she?d be a friend of Casper?s. They show up at a house used as a movie set while 2 dipshits rob a grave for some cult ?artifact? . so of course its cursed by the head of the cult & whatever that sorry excuse of a ?not quite? vampire is bela Lugosi would be turning over in his grave (& Damon Salvatore is on his way to rip out the idiots throat who had the NERVE to cast that ..INSULT, as well as write the slop) Thre?s parts so bad it makes you laugh. (seriously I?m sure a friend of mine could write a better story, & everyone I?ve ever known could probably do a better job on every level. (I?ll be camera man!!) Overall judging.. SUCKS enter my fave line?& NOT in the ?fun? way D (I gave it an extra point just for that line & maybe another 2 things I liked)
Kym (c my community profile) Ragarsson
Super Reviewer
The Wickeds Quotes
There are no approved quotes yet for this movie.