Wild Card
(2003)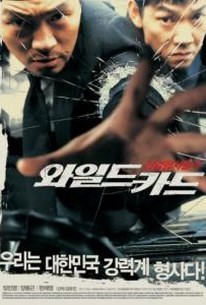 AUDIENCE SCORE
Critic Consensus: No consensus yet.
Movie Info
An ensemble-flavored police drama from South Korean director Kim Yu-jin, Wild Card follows a group of determined Seoul detectives as they comb the city in hopes of finding a murderous gang leader. Shocked by the brutal subway murder of an innocent woman and the subsequent gang-rape of a local prostitute, detective Oh Yeong-dal (Jeong Jin-yeong) and loose cannon partner Bang Jae-su (Yang Dong-geun) attempt to squeeze info out of a local club owner (Lee Do-gyeong). Subsequently spotting the gang directly after another horrific murder, the police give chase but lose the suspect in the winding downtown streets. Although he has escaped for the time being, an ingenious trap set by the policemen offers their only hope in finally apprehending the elusive gang leader. ~ Jason Buchanan, Rovi
Rating:
NR
Genre:
, ,
Directed By:
In Theaters:
Runtime:
Audience Reviews for Wild Card
There are a few films under the belt of Yu-jin Kim, however most of them are dramas. Wild Card is an attempt at an action crime thriller, with a little better than decent results.
The story is a little bland and really straightforward. A group of young adults are committing crimes all over the town and it is up to the police force to take them down. At just under 2 hours, the pacing is slow to moderate with most of the emphasis coming down on two cops. There isn't much to follow when it comes to the cops as they carry out their typical investigative work, with a pretty entertaining good cop bad cop scene. There is a small romantic subplot for one of the characters, but that doesn't really go anywhere. The thugs, are thugs. There is no background and slim to nil in the way of story for them, but the crimes they commit makes them hate-able.
There isn't much in the way of action, besides a number of foot-chases. The violence isn't necessarily bloody, however it is pretty intense. Add the strong language to this and the R-rating is fitting.
The acting is good. Dong-kun Yang effectively pulls off a younger cop and he makes this film quite enjoyable. His partner in crime, Jin-yeong Jeong, isn't that bad either. The beautiful Chae-young Han shows up as the major female character and love interest for Dong-kun.
There is nothing really spectacular about Wild Card, but it is a decent enough Korean cop film to check out if time allows.