Wild Bill
(2011)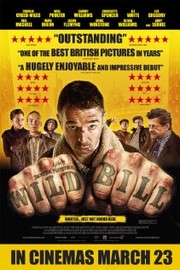 Movie Info
Out on parole after 8 years inside, Bill Hayward returns home to find his now 11 and 15-year old sons abandoned by their mother and fending for themselves. Unwilling to play Dad, his arrival brings them to the attention of social services. With the danger of being put into care looming, Dean forces his Dad to stay by threatening to grass him up for dealing. Dean soon connects with Jimmy and through this new bond starts to realize what he's been missing. He has a family and a place in the world, but when Jimmy gets into trouble with Bill's old cohorts, he quickly has to decide what kind of Dad he wants to be. A good one, or a free one.
more
Cast
News & Interviews for Wild Bill
Critic Reviews for Wild Bill
Audience Reviews for Wild Bill
Wild Bill is one of the most overlooked films of 2012. It contains a good cast and a well written story that you will be invest to see til end credits roll.

Wild Bill centers around Bill Hayward who we meet upon his release from prison on The Isle of Wight following an eight year stretch for various transgressions in his early life. Bill returns to his home in East London to find that his two young sons have been abandoned by their mother and are now trying to cope on their own whilst avoiding the gaze of social services.

The plot here solid balancing family drama and humor with ease. Character development is the strongest aspect here as we are given enough time to relate to the characters and sympathise with them. These character feel realistic acting the way actual people would in this kind of situation. Seeing the title character embraced his responsibilities as a father is a rewarding experience that not drama can pull off. One minor problem I do have are the gangsters who are two dimensional. The gangster at time just appear when the plots them too, but that's a minor complaint. The acting is solid from every single one of it actors. In particular the young child actor Will Poulter who's deliver a very professional performance few kids his age could even match. His acting is at the same level as the adults and without doubt Poulter has a bright future in his acting career. Also, special praise to Dexter Fletcher who was able to capture the best of the actor chemistry with each other and being able capture the true essence of the story he is telling.

Wild Bill is a great drama that you should see if you have not seen it already. It's well made, offers a rewarding experience, and a great acting from it cast that should not go unnoticed by the general public.
Caesar Mendez
Super Reviewer
This directorial debut of the English actor Dexter Fletcher is the most pleasant surprise this year.

The story of Bill Hayward (Charlie Creed-Miles), a prisoner of eight years out on parole, who is returning home, to find out that his wife has left and his 15 and 11 year old sons, Dean (Will Poulter) and Jimmy (Sammy Williams) were living alone - was a touching one. Not sweet touching, but bitterly touching! Dean, the older boy was managing to support his younger brother, but Bill has to stay when social services threatens to put the boys into care discovering that their mother is gone. A bond between Bill and Jimmy quickly develops, but is short-lived when Jimmy gets into some trouble with the drug dealers - old friends of Bill's...

This is a real life drama you can witness from a comfortable chair on a big screen - well written, well acted, well directed... check it out!
Discussion Forum
Discuss Wild Bill on our Movie forum!
News & Features