The Wild Child (L'enfant sauvage)
(1970)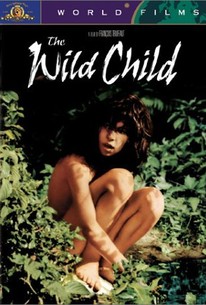 The Wild Child (L'enfant sauvage) Photos
Movie Info
Based on a real-life case study, recorded in Jean-Marc Gaspard Itard's 1806 volume Memoire et Rapport sur Victor de L'Aveyron, The Wild Child is spiritually in line with François Truffaut's other films about the pains of adolescence. Truffaut himself plays Dr. Jean Itard, a doctor working at Paris' Institute for the Deaf and Dumb. Itard takes on the challenge of Victor (Jean-Pierre Cargol), a nonverbal "wild boy" found abandoned in the woods. Realizing that the Institute's rather cruel methods may drive Victor further into himself, Dr. Itard brings the boy to his own home, hoping to establish a communication base with kindness and compassion. Once he has taught Victor how to listen and respond, Itard takes it upon himself to imbue the boy with a sense of morality. Adopting an austere cinematic technique (at times reminiscent of silent films), Truffaut unfolds his story with directness and simplicity. ~ Hal Erickson, Rovi
Critic Reviews for The Wild Child (L'enfant sauvage)
Audience Reviews for The Wild Child (L'enfant sauvage)
½
"The Wild Child" is an engaging film, but it's hard to guess why director Francois Truffaut felt compelled to tell this simple story. The premise (a patient 18th-century teacher, played by Truffaut himself, eases a feral pre-teen into civilization) is quite straightforward, and the boy doesn't advance enough to fully please an audience (you may be surprised when the film abruptly ends). And there aren't any notable directing choices beyond a few nostalgic iris shots. Perhaps this tale should be loosely filed with "Small Change" and "The 400 Blows" as just another look at children finding their way in the world. Jean-Pierre Cargol is impressive in the title role. He only says one word, but is put through quite a physical test.
Eric Broome
Super Reviewer
Based on the subject and the director's nationality, I assumed that this film would be some kind of restatement or exploration of Rousseau's "noble savage" theory, and though there is some of this discussion in one or two lines, the film doesn't spend much time juxtaposing modernity and the "wild" child's original habitat. Based on all the critics' reviews, this film is an exploration or discussion of child development, but there is very little original presented here. So, I'm left struggling to figure out what this film is about and why people like it so much. I found the story to be merely a French, poor man's Miracle Worker, and I found the acting, especially by Truffaut, to be stilted and staid. Even Truffaut's direction lacks vigor. Almost every scene is a motionless three-quarter shot, backed by a heavy-handed harpsichord. Overall, I neither found this intellectually nor emotionally compelling. Like Truffaut's acting, it was just there, saying nothing interesting or interestingly.
Jim Hunter
Super Reviewer
For those unfamiliar with what a "feral child" is, it is a child who from the early years of their life has been denied contact with other humans. Tarzan of the apes and Mowgli from The Jungle Book are probably the most well known feral children of fiction, but there are cases of real life feral children. It's a topic that really intrigues me, and led to my discovery of the French film The Wild Child. A docudrama of sorts, it is based on actual journal entries about "The Wild Boy of Aveyron." The film opens somewhat abruptly, immediately showing the discovery and capture of the "The Wild Boy," who is eventually named Victor. Victor is found naked in a forest in southern France. He is presumed to be about 12, and seems unable to speak or understand human language. He is taken to a school for deaf mutes, deemed "an idiot child," and treated as something of a tourist attraction. One of those at the school, Dr. Jean Marc Gaspard Itard (played by François Truffaut, who also produced and directed the film) sees things differently than his colleagues, eventually gaining custody of Victor and dedicating his time to civilizing the child. This process takes up the majority of the film. The viewer is taken through the months of Victor's lessons, starting with basic concepts of humanity like walking normally and wearing clothes, and eventually transitioning into understanding language. The teaching of Victor is without a doubt the most interesting part of the movie. This isn't just because it also happens to be the most interesting part of the true story, but also because the first fourth of the movie is where most of its problems are. The biggest issue the film has is the lack of interest the majority of the characters show in this very intriguing discovery. Dr. Jean Itard and his assistant Madame Guerin seem to be the only characters who realize the significance of Victor. All the other characters just treat it like a normal occurrence, with their only real emotion towards Victor being one of disdain, seeing him as being beneath them. I suppose this was probably intentional, meant to show how Dr. Itard differs from the rest of his colleagues, but I think it's taken a bit too far, making the first fourth of the film lack a certain level of emotion. Another issue the film has is its limitations from the true story. For example, we don't see what Victor's life was like before he was captured. Why was he abandoned? How did he learn to fend for himself? Was he always completely alone? None of these questions are answered in the movie, because they were never answered in real life. We get some hints, but that's about it. I also felt a bit unsatisfied with the ending. It's not that it's a bad ending, it just felt lacking. However, I must say that I'm happy with their decision to stay close to the facts, with very little dramatization. It may leave me dissatisfied at certain points, but there are enough fictional feral children in the media; it was nice to see the story of a real one. Ultimately this is a good film despite its faults. A quiet piece that moves at a deliberate pace, I'm not entirely sure I can label it as "entertaining," but I can say it is very engaging. François Truffaut's performance as Dr. Jean Itard is good, and the boy who plays Victor is superb, especially considering that he only speaks about three times. The Wild Child is a very intriguing film that has left me thinking about it long after the credits rolled. Well deserving of the title "a classic," this 40 year-old film holds up surprisingly well, and is definitely worth a look.
Michael Malan
Super Reviewer
The Wild Child (L'enfant sauvage) Quotes
There are no approved quotes yet for this movie.