Wild Tigers I Have Known
(2007)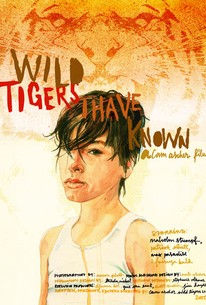 Wild Tigers I Have Known Videos
Wild Tigers I Have Known Photos
Movie Info
Logan, soft-spoken, lonely, and 13-years-old, is a boy with a crush. Unlike his equally lonely friend Joey, who obsesses over the sexual exploits of the slightly older, post-pubescent boys, Logan is fixated on the boys themselves--particularly Rodeo Walker. Rodeo is the only one of the group of cool kids who shows any friendliness towards Logan, meaning he does not go out of his way to make Logan's life miserable. As Logan and Rodeo strike-up a mismatched friendship, the kind that only works on taking deep walks into the forest when no one else is around, Logan's infatuation with Rodeo inspires him to create a new persona named Leah. Leah and Rodeo grow close through whispered late night phone calls, and when Leah agrees to meet Rodeo face to face, it is Logan who must finally prove that he can ask for what he so achingly wants.
Rating:
NR
Genre:
Directed By:
Written By:
In Theaters:
On DVD:
Runtime:
Studio:
News & Interviews for Wild Tigers I Have Known
Critic Reviews for Wild Tigers I Have Known
Audience Reviews for Wild Tigers I Have Known
Cam Archer is a 24-year-old with a future. At least that's the impression given by his first feature, Wild Tigers I Have Known, which he wrote and directed. Unfortunately, the talent on display here is oft times ill-used, and that makes the film a frustrating experience.
Lee Mayo
½
Wow I'm not really sure what to think.. To much 13 year old masturbation haha. But its was really artsy I liked that.. I Thought he looked really good. Esp with that wig. I loved it!
Princess Sarah
Filmed and edited with a detached, dream-like style, "Wild Tigers I Have Known" is one of the more unique films I've seen in a long time; even when compared to other, similar indie flicks. Its sense of style never comes across as pretentious - only honest. This is because the bizarre lighting, unusual coloration, low-key score, and at times silent soundtrack can only be seen as appropriate in light of its story. The story features an introspective and daydreaming 13 year-old boy on the cusp of puberty, Logan, who finds himself attracted to the stud of the junior high school - Rodeo. He is so attracted, in fact, that he dons an on-the-phone female persona to lure his crush in. When they meet in person, and Rodeo sees that it is not a girl, but that strange Logan kid who he's been hanging out with, well... How ELSE should a director logically treat such awkwardness, other than how Cam Archer treats it here? I suppose Archer could have tamed his curious eye and gone for cheap laughs, potty humor, bright lighting, a feel-good soundtrack, and farcical contrivances with regards to Logan's female persona and the big reveal to Rodeo, but that would have placed him in danger of winning distribution offers from Hollywood. Such unique and daring choices on the technical aspects of the film combine to create an atmosphere of isolation and loneliness, as well as highlight the boredom which comes from being different in middle school. A couple of scenes use wry humor to show how out of touch the faculty is with kids like Logan, and these moments succeed wonderfully, as does a heartbreaking scene between Logan and his mother over spilled groceries. Some people in the audience could be as bored and confused at the end of the day as the main characters, no doubt, but those who would are probably not the type to seek out films like this in the first place.
Brandon Vescovo
Wild Tigers I Have Known Quotes
There are no approved quotes yet for this movie.
Discussion Forum
Discuss Wild Tigers I Have Known on our Movie forum!