Wild Wild West
(1999)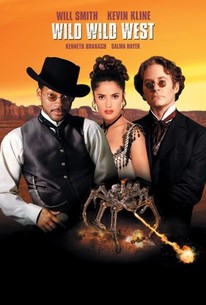 TOMATOMETER
AUDIENCE SCORE
Critic Consensus: Bombastic, manic, and largely laugh-free, Wild Wild West is a bizarre misfire in which greater care was lavished upon the special effects than on the script.
Movie Info
Special government agent James West, long on charm and wit, and special government agent Artemus Gordon, a master of disguises and a brilliant inventor of gadgets large and small, are each sent to track down the diabolical genius Dr. Arliss Loveless. Loveless is plotting to assassinate the President of the United States with the aid of his monstrously huge walking weapon-transport vehicle called The Tarantula. West and Gordon begin as competitors but soon pool their talents to become a wily team of operatives who trust each other... most of the time.
News & Interviews for Wild Wild West
Critic Reviews for Wild Wild West
Audience Reviews for Wild Wild West
As Ebert said, all concept and no content. Will Smith is just playing the fresh prince on the west. Kline and Branagh do what they can to save this thing, but it's not enough. Also, somebody remind me why Salma Hayek is consider an "A" list hollywood star when she can't act even one bit.
Tsubaki Sanjuro
Super Reviewer
Looks fun, but, Wild Wild West, is a pure crap.
Lucas Martins
Super Reviewer
Wild Wild West is a very poorly executed action film. Barry Sonnenfeld only has one good film under his belt (Men in Black) and the rest are garbage, but Wild Wild West takes the cake as his worst yet. I've seen such an awful film. This film is so poorly crafted, that you wonder how this ever got the go ahead. Everything about this film is terrible. The acting, the story and directing. Sonnenfeld really isn't a good director, and he's made more bad films than good one. Wild Wild West is a strained film that tries too hard at delivering something to the audience. The only problem is, is that this film bores the viewer to death. I remember watching this film and it was very boring. The film is pure crap. What's surprising is the amount of good actors in this film, Ted Levine, Kenneth Branagh for one have impressive resumes. I wonder why these established and talented actors decided to star in this awful mess. This film insults the Western films of old, and makes a mockery of the genre. Maybe with a better script this film could've worked. It's like Guy Ritchie's Sherlock Holmes, no one thought that it would be good, but guess what? It was. This could have been a top notch action film with a different director and of course script, but scriptwriters to capture what was fun about the original Westerns of the 60's, and above all the TV show it was based on. This film is a waste of time, and an awful action film from a not so good director.
Wild Wild West Quotes
| | |
| --- | --- |
| Dr. Arliss Loveless: | Don't you just HATE that song? |
| Dr. Arliss Loveless: | Don't you just hate that song? |
| | |
| --- | --- |
| James T. West: | I have a telegram for a Dr. Loveless. It's from his mother, Irene. She's telling him to come on home, stop all this foolishness. |
| | |
| --- | --- |
| James T. West: | For four long years I've been chasing the animal responsible for the massacre at New Liberty. I'm here to tell that's you. |
| Dr. Arliss Loveless: | I am not an animal! I am a visionary, I am a genius, and now I am *angry*! And after I kill you, I swear I'm going to boil you down for axle grease! |
Discussion Forum
Discuss Wild Wild West on our Movie forum!